The first impression of the company is precious, but it's not the only thing that matters. Your goal is to keep new employees, so you better start planning the onboarding process that continues after the day one.
Will they remain engaged for years to come or will they leave an empty desk after only a few months? It's up to you!
For A-level candidates, there are hiring opportunities everywhere. They keep getting messages on LinkedIn, and even if they have accepted your offer, that doesn't necessarily mean they have declined to others. Moreover, researches are telling us that one third of newly hired employees are still job hunting during the first six months, or even less. Some of these people think that it's better to leave before they get too engaged. That's why you have to engage them before they even realize it. New hires have to feel properly welcome and appreciated.
Learn more about Reputation Management.
What's your company's turnover rate?
Turnover rate is a percentage of employees who leave an organization during a certain period. People usually measure it monthly and annually, but they don't include internal movements like promotions or transfers. Seeing a spike in your company's turnover will probably cause a spike in your blood pressure. So, in order to realize if you have a problem, let's see numbers first. Here's the formula for annual turnover rate:

Since we are talking about the first year of engagement, it's essential to measure new hire turnover rate. Let's find out how many employees left your company within their first year on the job.

Different industries have different expected turnover rates. The average turnover rate for all employment is 3.5 percent.
Tech companies (software, not hardware) had the most talent turnover in 2017 with a 13.2% rate. Between them, the computer games drove tech turnover the most (15.5%), Internet (14.9%), and computer software industries (13.3%).
You have the onboarding process but employees still keep quitting their job? There is always room for improvement.
Here are some questions for you:
Do you check up on your new employees progress?
How does your organization encourage loyalty?
Is a new employee getting along with others?
Are employees leaving your organization at critical points during their first year?
What are the most common issues in the company?
Are people intimidated by a team leader?
Is your team strong? Can they rely on each other?
All these things matters. The fact is that the onboarding doesn't end after day one. You have to think about small things in order to make your team strong.
Maybe you didn't make the right choice in the first place by hiring the wrong person. If that is a case, you can always rely on an IT recruitment company to help you to find the most suitable person for a job. However, your job is to make onboarding process work, so you should conduct more comprehensive studies on trends in your workforce and induce a positive change.
Why do new hires leave?
To solve the turnover rate problem, you have to look at the causes of the problem. When employees are not content with their job, that's usually because they have a negative or difficult onboarding experience. They start second-guessing their decision to join a company or even quit in the first few months. The most common reason is that they came to a conclusion that this particular position isn't suitable for them after all. The second one is that the job description they were presented to in the interview doesn't match the realistic daily tasks and requirements. Also, the cause of the problem might be the executive person.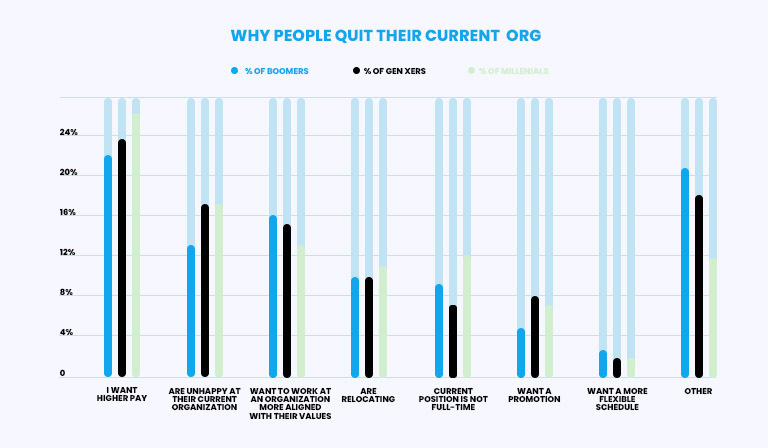 How to improve the onboarding process?
In order to keep new employees your company has to be organized and to deliver tasks on time, to improve socialization, choose a mentor or buddy for a new employee, but also to plan an extended process beyond the first week. That's why pre-boarding is as important as an annual review and everything in between.
Pre-boarding: Sett the right expectations
The pre-boarding starts with an accurate job description, effective interviews, and a great pre-boarding experience:
Welcome Email/Call
Agenda
Forms, benefits
Handbook, documentation, corporate information
Seating Arrangements
Technology, access
Manager/Team Introduction
Why is this phase so important? The first day guides will help new employees prepare for a successful first week and beyond. If they know what to expect, they won't be disappointed. However, if they don't know all these things, this will leave room for confusion and disappointment. Keep in mind that receiving clear guidelines about responsibilities is the most important thing for new hires, as well as effective training and help of a co-worker.
After Day 1: Engage new employees
In the first 30 days, it's important that new employees know what is expected from them and how they can succeed. The manager's job is to make sure that a new employee is engaged, affiliated and willing to take on responsibility. They should feel comfortable about asking for feedback and encourage them to give suggestions and be involved. Although you have sent them all documentation about the company, that's not enough. They're learning about the company while they're working with others, so you should make an effort to help them. them learn more about their department, clients and the company.
In this phase, you have the power to create a genuine sense of belonging and loyalty, so you better start working on engaging new hires.
The Middle Months: Advise and coach new hires
Are new hires motivated or disappointed? During the first 3 to 6 months, you should thoughtfully listen to your employees' needs and hold an interest in their learning and development. Be responsive and react easily to their suggestions, appeals or requests. Managers or their buddies should advise and coach them along the way. They should feel that they have meaningful support, so don't judge them. If you miss alarming signs in this period such as demotivation, you will quickly lose one of your employees.
First Annual Review: Ask for feedback
The end of the first year is when traditional onboarding transitions into retention and employee satisfaction. You have finally achieved your goal – you managed to keep your employee for a whole year. But watch out, your employees are thinking about their progression in the company. So you better keep track of what's working well, and what could be improved. Here is what you have to do after a year:
Do a formal review of the new hire's performance.
Recognize the employee's achievements.
Ask for feedback.
Discuss a career development plan that's focused on advancement within your company.
Discuss their professional development goals and recognize appropriate learning opportunities.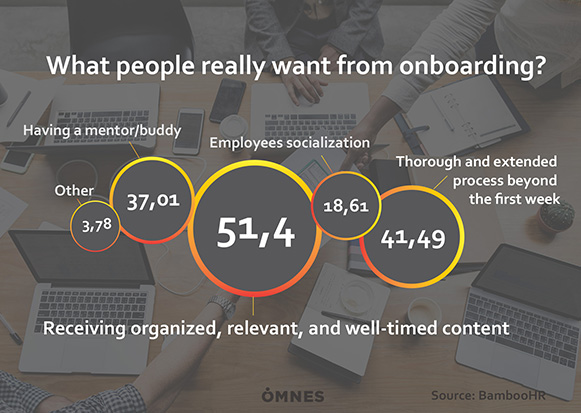 Learn more about onboarding: Tips for a better onboarding process to improve new hire satisfaction.
Conclusion: Personal connection will reduce new-hire turnover
In the end, two things are crucial for onboarding: policy training and a mentor or buddy program. You have to meet new employees most basic needs for job clarity and personal connection. These two things will not only reduce new-hire turnover, but it will also increase employee engagement. Remember, effective onboarding and retaining employees will help you save both money and time.