Do you read the reviews before you book a hotel? You probably compare all kinds of facts and then decide which one is the best. The same thing job seekers do. Reputation management has become a crucial thing for companies because they know that what people write online about them can be a deal-breaker.
Nowadays, job seekers are relying on online reviews. That's a new word of mouth. Before they apply for a job, job seekers will check websites that offer them reliable information about the position and the company. That's why you have to start working on a reputation management strategy in employer branding.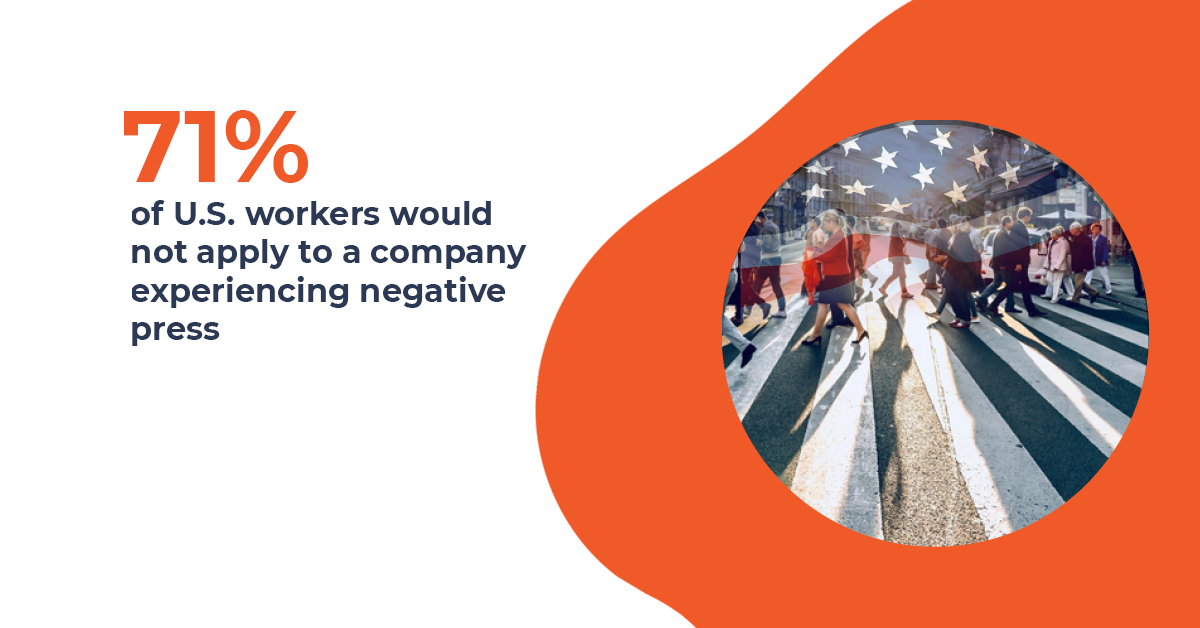 However, there is an even more significant obstacle then bad review – not knowing what it's like to work at an organization. Online presence is a must, so let's find out how you can improve it.
What Is Reputation Management?
Reputation Management is the practice of monitoring the reputation of an individual or brand on the internet to address potentially harmful content. In other words, character is who you are; reputation is who other people think you are.
Online reputation management (ORM), internet reputation management, rep management, brand perception – these are all synonyms for shaping public perception about a person or business.
The brand image was always important for companies, but how you deal with it is a bit different today. While earlier PR experts and traditional marketers were in charge of building trust and credibility, nowadays, digital marketers have wide power to make that happen. The goal is the same – keeping the bad press to a minimum and grabbing as much positive media coverage as possible.
How to improve reputation management?
Maybe you're asking yourself – how can I control what other people think and write online? Well, you can't control everything, but certain things have to be done. These tips will help you shape your reputation.
✅ Set up Google Alerts
To be in control of rep management, you should be aware of what people write about your company. For starters, you can set up Google Alerts to monitor your reputation online. Whether negative news articles, blogs, reviews, or images are posted, you will be able to recognize problems immediately and find a way to deal with it.
✅ Start from inside
Although reputation management is focused on what happens online, you have to think about what causes reviews, whether they are good or bad. If your team is in a mess and your employees don't feel appreciated, then it's obvious why you have a bad online reputation. There is even a study that shows that happier people do a better job.
Every person that gets in touch with your employees will form some opinion about the company. The first thing you have to do is to find a way to make your employees happy, and it will reflect on your online presence.
Further, make sure that people who present you understand that, especially when it comes to the selection process. Even ignored email can cause a bad review. If you don't have time to deal with the candidates, maybe you should consider hiring an IT recruitment company that will make this process easier for you. IT recruiters are mediators between companies and candidates and they are able to make objective choices when it comes to hiring. They will fight for those professionals that are worth fighting for by presenting your company in the best possible way. Even those who don't pass the selection process will have nothing to complain about.
✅ Use social media to present your company culture
If we exclude the review section, you're in control of your social media. Make sure that you include your values and company culture in your digital marketing strategy. For IT companies, LinkedIn, Facebook, Instagram, and Twitter are the places where they present their employees and show them that they appreciate their efforts for the company.
Is there room for growth for your employees? What are the perks your employees have? Do your employees participate in conferences? Share specific stories that will move your followers. For example, you can tell a story about an employee who started as an intern and became a skilled programmer. That's a great way to connect with both employees and job seekers. Moreover, this is a place where you can present your version of the story. Use it!
✅ Glassdoor as a source of information
Websites such as Glassdoor exist to help job seekers make guided choices based on what other professionals have experienced. Every month, thousands of employers are signing up for Glassdoor account to analyze areas such as brand awareness, brand reputation, competitive analysis, and audience.
According to Glassdoor, these are the factors that are the most important for job seekers:
Salaries (67 percent)
Benefits (63 percent)
Location (59 percent)
Commute time (43 percent) and
Employee reviews (32 percent)
Glassdoor is a great place to meet your potential employee and to check if your employer brand resonates with your target audience. Also, you can check out your competitors and find a way to present your company better than they do.
If you have a lot of bad reviews, you should seriously consider improving your reputation management strategy. Once you deal with the problem, positive reviews will keep coming, and hopefully, good reviews will counteract the outlier.
✅ Reply on reviews
Bad reviews will happen. Sometimes, one bad review is enough to shake your reputation, but don't be disappointed nor angry. You have to calm down and put yourself in their shoes.
This statistic shows that it's essential to deal with reviews. Keep in mind that merely issuing an apology is not enough to recover from a bad online reputation. Be kind, avoid arguing online, and take action to mitigate the situation. It will show them that you care about people.
Further, it would help if you encouraged your employers and clients to share their reviews.
Businesses with more than nine "fresh" reviews (reviews posted in the past 90 days) earn 52% more revenue than the average business. Additionally, companies with 25 or more recent reviews make 108% more than average.
✅ SEO as a reputation management tool
Since Reputation Management can be defined as the act of monitoring, addressing, or mitigating SERPs (search engine result pages), it's crucial to work on your SEO strategy. Only if you do so, you'll be able to handle the negative press.
Don't let the negative press to outrank your site for keywords you're using. Identify which keywords are affected, a fight for those keywords. Work on so-called reverse SEO. You can run PPC ads, but it's better if you work on organic optimization. Write blogs, post on social media, work on link building, and improve your SEO in general.
The results? More candidates, less cost
High-level reputation management in employer branding will not only bring you more candidates that match your description, but it will also reduce the cost-to-hire rate. These two things are connected.
Moreover, you won't have to pay for job ads. Become a place where people want to work, and A-level professionals will keep coming.
Reputation management isn't something you should ignore. Remember, it takes less than a second for an online visitor to form an initial impression of your brand.
Whether you have a problem with bad reviews or not, we can help you hire A-level IT professionals. Let's improve your reputation management together. Contact us for more information.