So many established developers are already getting people's attention online, so why should you even try to get out there? Well, because you can and because it will help you in so many ways. For example, you will rank better on Google, so when potential clients search your name, they will find your work quickly. Next, you will get noticed! Having a discussion with other professionals can help you learn and find a job opportunity that's the best for you. That's why having a blog and online portfolio is essential in IT world.
Moreover, an online presence is a must-have thing for a developer because you're building your personal brand. So, let's start branding!
Why and how to start blogging?
Blogging is freeing experience – you can use it as a way to show your personality and interests outside of code. Still, coding is the priority, so you should start writing about programming even though you're not an expert. Write about your learning process, what did you try and what had worked the best for you. You know some useful websites or tools? Write about it! Go outside your comfort zone and start typing.
Creating a blog is simple and it doesn't have to be flashy or expensive – you can use a WordPress blog with a free theme, or you can write on platforms such as Medium or Jekyll. As this may be your first blog, the important thing is not to overthink. Just write about topics that inspire you, because the most crucial thing is that IT recruitment agencies and like-minded people can actually find you online, see what you're about and contact you if needed.
Another goal is to document your learnings that will be useful for both you and your audience. Don't try to sound too smart and to share advice about topics you're not familiar with. You're just starting your developer career, so don't act like you know everything.
Further, a blog will help you connect with people and discuss things that are trending in the industry. So, when you use new technologies, you will have someone to ask for help or advice. This may be the most awesome benefit of blogging – connecting with strangers you have something in common. Let's be honest, you can't talk about coding with everyone, so chatting with these people may be relaxing for you.
The blog is your voice
There are few things you should consider before starting a blog. Firstly, pick a blog name carefully. This is something you can't just change. A blog name should set the tone of your blog, and tell people what you're actually writing about. This also refers to your web address. Secondly, you have to think about the visual identity of your blog. Determine your blog's color palette and keep this identity on social media platforms, too.
You are creating your blog's personality, so you have to think about details. When it comes to your writing style, you have to sound like a human while writing, so you have to inject a bit of your personality into your content. Standing out from others is not a simple task. Your style and authenticity are the things that will attract people, so they will keep coming to see what's new on your blog.
It's important to stay consistent to your blog voice and to post regularly.
Choose the most respectful form of yourself and your passions because it's hard to remove and forget what's done in the online world. People are judgemental, so don't let them turn you into a crabby person. Think twice before you post, and keep it respectful.
The importance of tidy Github account
GitHub can help you show your best work in developers community, as long as you tidy up your account regularly. You can highlight your most elegant code and projects you're proud of but you can also learn from other developers.
Moreover, this is the best way to present yourself to IT recruitment companies. You may have a number of skills written in your CV, but recruiter can check on GitHub if you're lying about it. Your code will tell them more about your work then your CV. That's why you have to make sure that your account is not messy and half-finished.
Update account regularly and delete projects that you don't have the intention to finish.
Here is a piece of advice – update account regularly and delete projects that you don't have the intention to finish. Push code for both big and small projects. Don't underestimate small projects because they can show that you have initiative and passion to develop in the field. Your account should present you as a compelling candidate, so don't let IT staffing agency reject you before even hear from you.
Make a portfolio website
Are you credible to write about coding? You have to give people evidence of your accomplishments so they can believe you. Give them first-hand evidence – pictures, links, references, publications, etc. A list of your skills is simply not enough. You have to organize and update your portfolio, add insights into the technologies you've learned and into the problems you've solved. Moreover, you can add your blog to your portfolio, so people will see how passionate you are about coding.
Everyone should make a portfolio, especially front-end developers and UX designers. If you're one of them, established websites such as dribbble or Behance can help you get inspired and heard by other professionals.
Branding on social media
You may not be much of a social media person, but you have to make an effort to present yourself at your best. LinkedIn is a must-have in developers world, but Twitter will also help you build an online presence.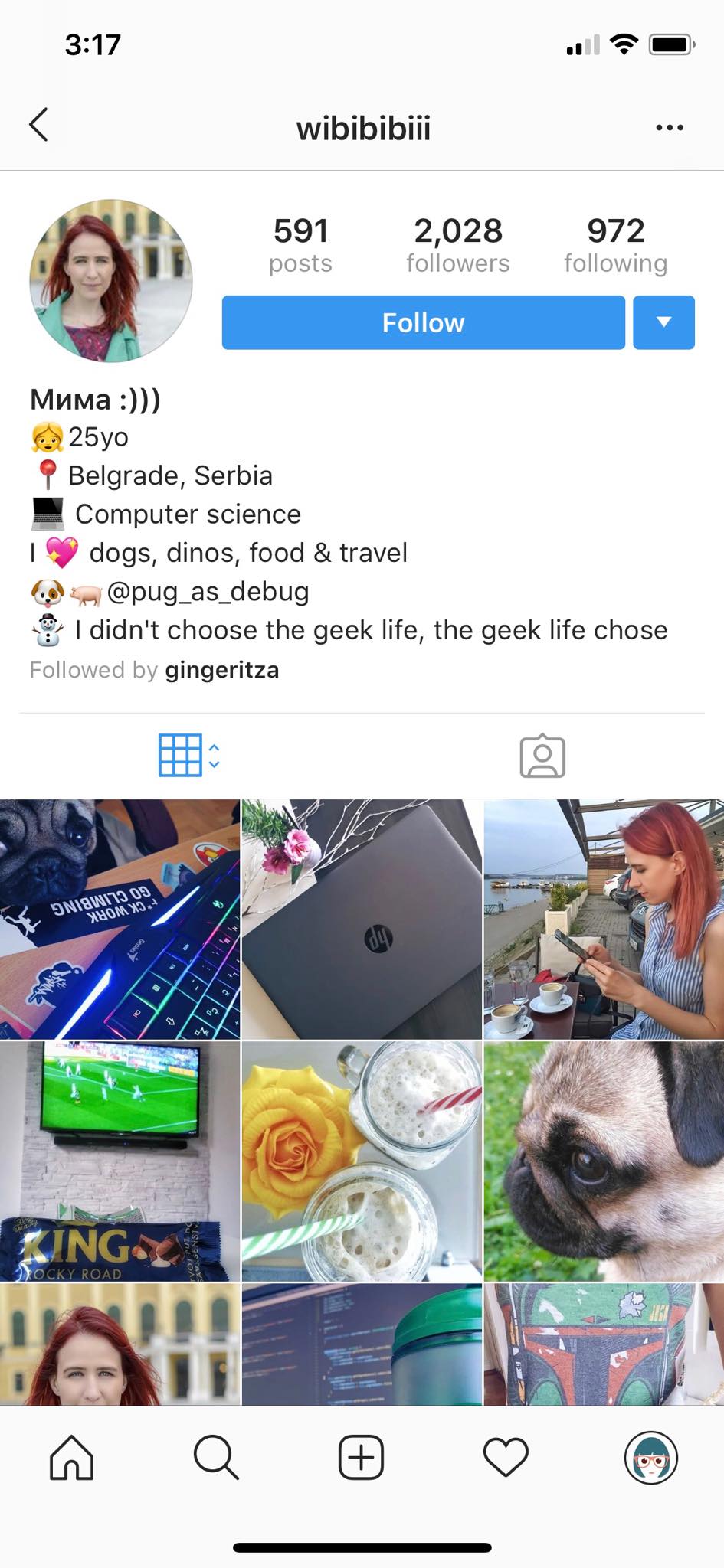 A recruitment agency that has a perfect job for you may find you on LinkedIn, while on Twitter you can connect and actually discuss some topic with most prestigious CEOs. Both social media platforms can help you stay up to date and see what's trending in the industry. You can even find out some interesting events and meetups that will help you connect with people in person (Meetup is also a great place to find events for developers in your area).
However, you have to watch out for mistakes! Your posts can see everyone, so make sure that you're decent, kind, but also interesting and unique. Photos of your meal or inappropriate jokes are a no-no in the professional world. You are branding yourself, so you have to give people some kind of value. There is a thin line between being cool and unprofessional. As you can see, you have a choice, so try to present yourself as an intelligent, ambitious team player. Remember, your reputation is important, so don't let an inappropriate post damages it.
Expand your audience
It takes time to brand yourself, so you probably won't have many visitors on the blog at first. Remember, you're doing it for yourself, so if you're consistent and devoted to your work, people will keep coming.
Start small – share your post with your friends and colleagues. Ask them for feedback, so you can improve your content. After that, you can share your posts on forums or even websites such as Reddit or Hacker News. Nevertheless, once you establish yourself as a blogger, you may have to deal with criticism. Don't let this kill your enthusiasm for writing and remember your goals in these situations – you want to learn more by writing, to connect with like-minded people and boost your online presence. Also, social media platforms can also help you boost your blog traffic and expand your audience. Make sure that your content is catchy, so people will like, share and comment your posts.
Your passion is your gift
Yes, having passion and experience is the best combination, but you'll get there. Passionate people learn quickly, enjoy their work and don't give up after the first obstacle. Don't underestimate an online presence because it can help you connect with many professionals and IT recruiters that will help you boost your career and establish yourself as a credible developer. Stay consistent, get up and code!