Lead Machine Learning Engineer
3 months ago
We are seeking an experienced Lead Machine Learning Engineer join our team. In this role, you will bring your passion for AI, innovative technologies, and the film industry to design and implement cutting-edge machine learning algorithms in the fields of visual effects, motion capturing, rendering, and other areas of film production. The ideal candidate will bring exceptional leadership and communication skills to lead a team of engineers and collaborate closely with other departments.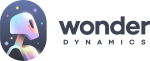 Requirements
At least 4 years of professional experience in the field of Machine Learning and/or Computer Vision, or an advanced degree (MSc).
Experience in applied Deep Learning (DL) and Computer Vision (CV) concepts including but are not limited to: CNNs, RNNs, Autoencoders, Transfer Learning.
Hands-on experience (academic and/or industrial) in 3D Pose Estimation and Motion reconstruction from images and videos
Proficiency in general purpose programming languages: Python, and C++.
Experience with ML frameworks such as: PyTorch, Tensorflow, etc.
The ideal candidate would be very well acquainted with Computer Graphics techniques, Neural Rendering, and Numerical Optimization
(Optional) Knowledge of 3D packages such as Blender, Maya, or any game engine technology
BSc in Computer Science, Mathematics, Electrical Engineering, or related technical field
Ability to speak and write in English fluently
Additional Comments
Why should you consider joining Wonder Dynamics?
At the intersection of film and technology, this job will offer a very unique experience, and you will be exposed to a diverse set of fields spanning from film production and visual effects to AI, machine learning, and computer vision. Because we are operating in the state-of-the-art territory, there will always be something new to learn on the horizon. We highly value our team and the support of our co-workers and strive to create the best environment to work in.
This is a mid- or senior-level engineering role and we offer a competitive salary, valuable stock options, and comprehensive benefits that allow individual flexibility for all employees to choose what makes the most sense for their personal situation.
Wonder Dynamics is committed to a culture of flexibility, diversity, and fun for all of our employees. We are working on some of the most challenging technical problems and we know the solutions will come from all of us working together in an inclusive, transparent, and open manner.