We thought about some typical salary negotiation mistakes, and here's the real question.
What do Liza Minnelli and Wu-Tang Clan have in common?
The significance of financial gratification is the principal theme among countless famous music artists, regardless of their genre, age, or location.
To be honest, budgeting, cost prediction, and managing candidates' salary expectations form an essential part of hiring.
Forgetting to do the research
Employers, recruiters, hiring managers, and job seekers should regularly research the market and learn about average salaries. Obtaining this sort of data puts every participant in a hiring process in perspective.
It enables them to accurately estimate the optimal (and the realistic) salary range for a specific role. This information can serve as a guide for both candidates and hiring managers.
If a company is searching for Senior Software Engineers who would join their team, it needs to be fully aware of the compensations they might require. When researching the market to get a better idea of salaries and ranges, there are a few factors to keep in mind:
Location (area, state, and city)
Seniority level
Requirements and responsibilities (role-specific skills and daily tasks)
The compensation for similar positions in other tech companies
To name a few.
However, many still fail to do so. Starting a hiring process and being clueless about the financial aspect that will unquestionably be a hot topic after or during the interview is a waste of time. For both ends.
The best part of getting to know the market is that it does not necessarily require the presence of a Data Specialist, a spy, or a wizard. An alternative way to measure the competitiveness of today's IT market is to manually count the recruiters in a developer's LinkedIn network. If you got bored or lost after only two pages of first connections, there's your answer.
Once you grasp how many recruitment personnel are after talent, you'll learn a thing or two about the market.
There's another side to this story and this calculation.
The enormous necessity to attract and hire top talent has produced a number of tech professionals with over the top expectations.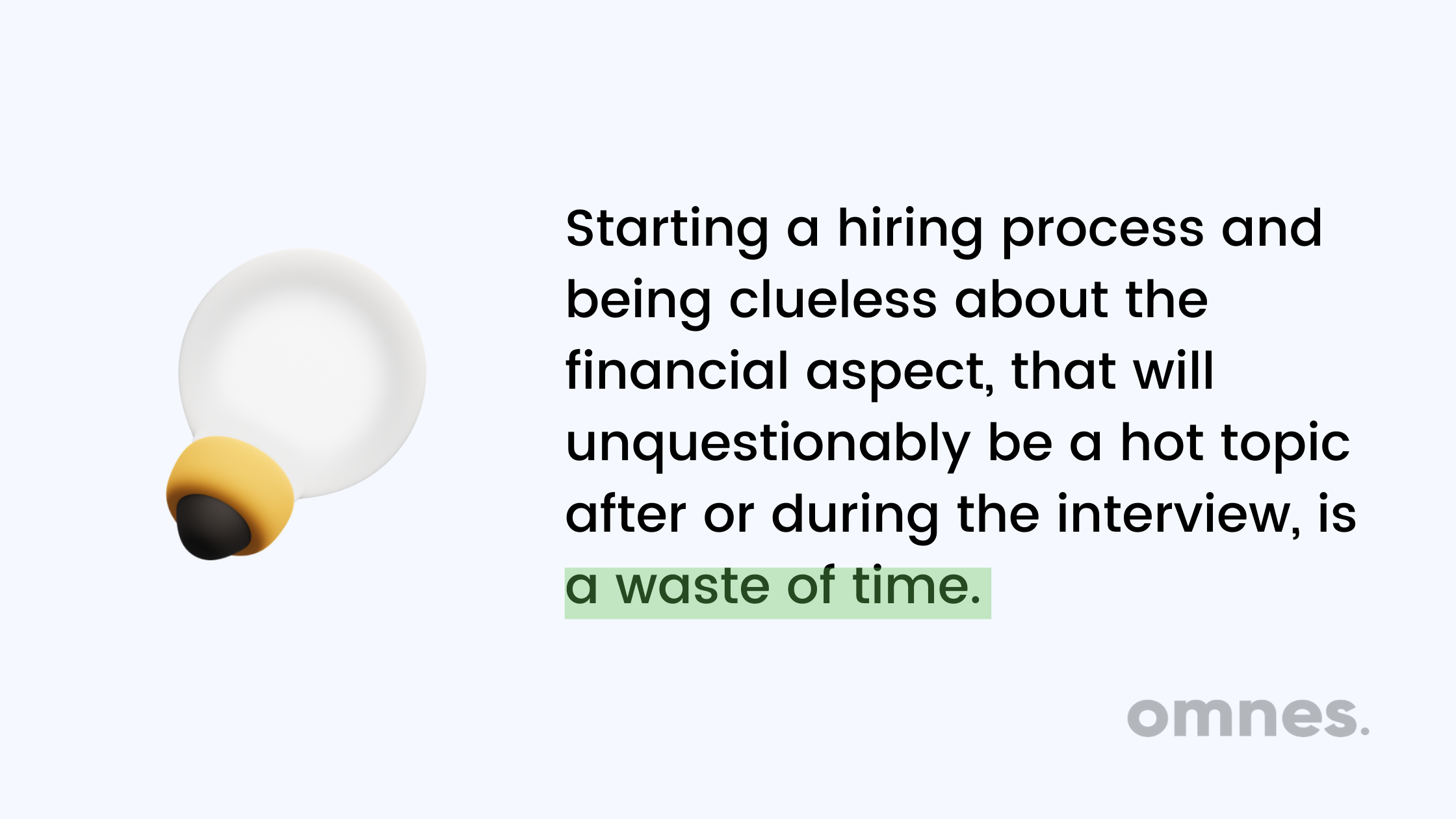 Is there such a thing as Kanye West syndrome?
So, on one side of the negotiation fails field, there's a company that wants to hire a Senior Software Engineer who knows everything, from Java development to lion taming.
However, they're willing to consider paying them in peanuts or pesetas. On the other side of the same dishonorable area, there's a self-proclaimed know-it-all who demands everything. Everything. No salary negotiation, that's obsolete – they know they're wanted.
And there's a bunch of distressed recruiters in the middle. Fun, huh?
Let's get this straight, once and for all. Candidates and job seekers need to know their worth. They have the knowledge to back it up, plus a little bit of research can help them out with justifying the amount they're aiming to receive for their efforts.
Candidates should speak up and let potential employers know about their salary expectations. However, being realistic and somewhat humble is the right way to negotiate and retain desirable financial gain long term.
Do not lower your criteria, but make sure to avoid being classified as a "Brilliant jerk" as long as LinkedIn shall live.
We get it – some of those candidates who ask for unreal compensation were precisely those who got burned when they tried to negotiate with the peanut providers from the top of this paragraph.
Still, that's not a valid excuse for all eternity. Holding a grudge can't do you any good. Learn your lesson, and get your head out of the cloud. Except for AWS.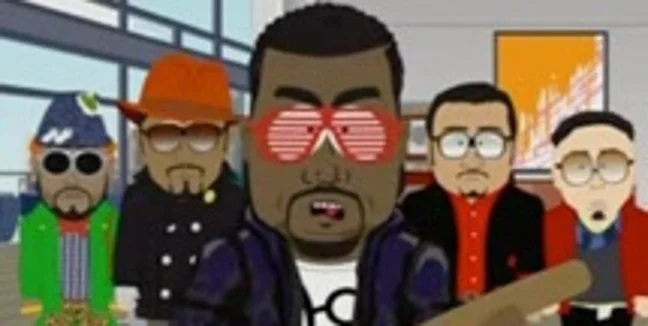 Here's a tip for candidates:
Salary negotiation can run more smoothly if you mention a salary range you'd be satisfied with instead of stating a single amount.
Recruiters often ask the candidates about their desired salaries during the initial interview.
The most effective and uncomplicated way to obtain a satisfactory salary is to communicate the preferred range from the beginning while keeping in mind that the minimal amount should still represent a compensation you'd be okay with.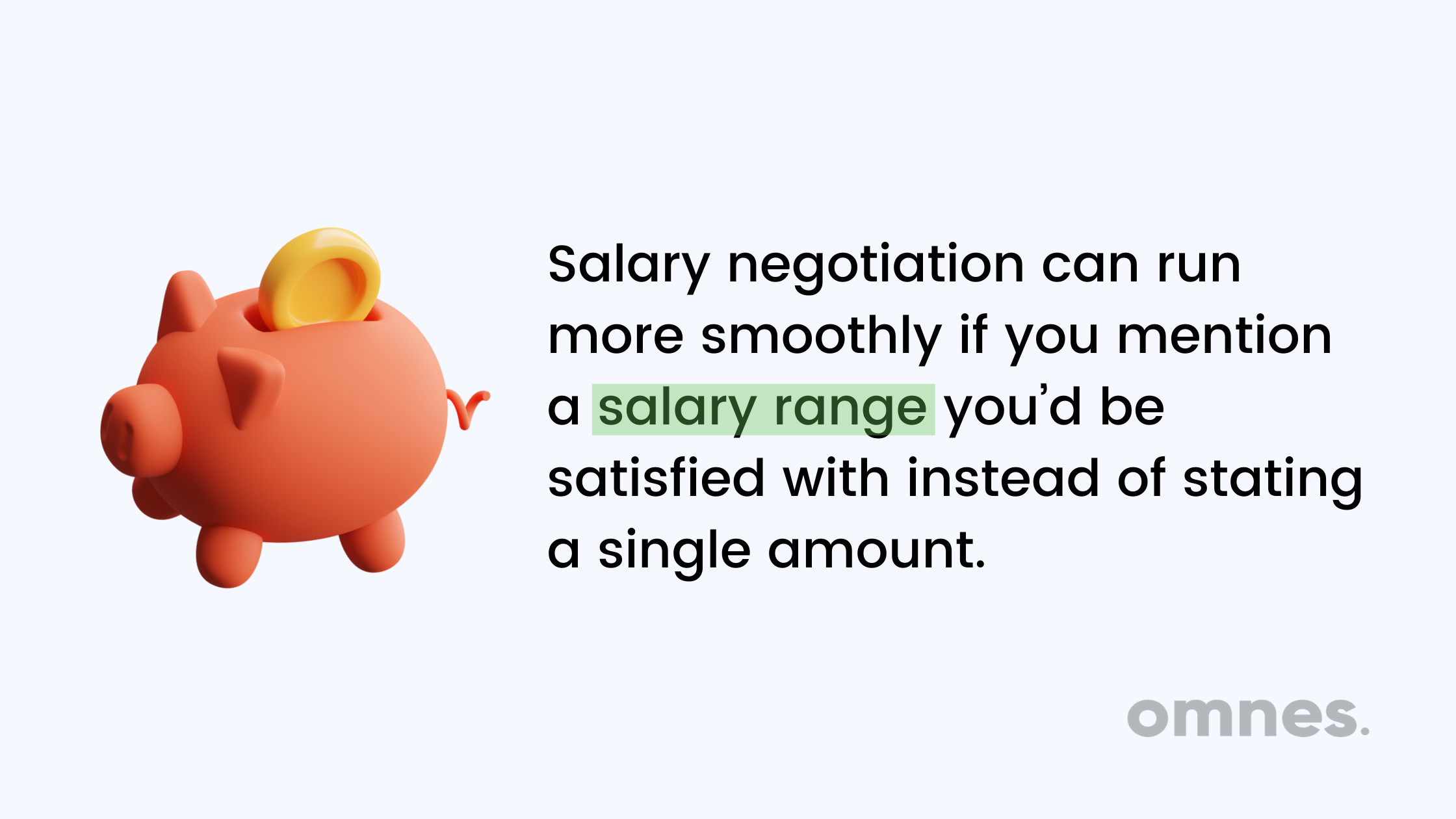 Candidates need to be prepared for the salary negotiation
In case things don't go quite as sleek as a candidate hoped, they need to be prepared for some reasoning in advance and confirm why they deserve the compensation they're asking.
Being equipped with facts for the mainly strategic part of hiring is almost equally important as being prepared for the technical interview. If you've come as far as answering the technical questions accurately, you've passed the HR assessment, and you've completed a code challenge potential employer presented you with – don't make a mistake and shut down once it comes to the job offer stage.
Bring your confidence and add a touch of humbleness to it.
That should do about right.
If a candidate is uncertain about the amount they should ask for, the best possible solution is to speak to friends and former colleagues before the interview.
Even rehearsing the salary negotiation with a knowledgeable friend might enhance the preparation and lead to a positive outcome.
Flexibility? Never heard of her.
Both sides need to practice being flexible. Companies need to acknowledge the candidates' needs, opinions, and expectations. Businesses are willing to permanently compete against each other and try to win the battle for talent by being loud, omnipresent, and sometimes superficially appealing.
But, when it comes to discussing salary ranges, some organizations tend to become rigid. According to several credible sources, tech professionals are primarily motivated by challenging projects, using new technologies, working remotely, and – guess what?
That's right, the S word.
Companies should show appreciation by being open to expanding their budget upon encountering the perfect candidate, who's salary expectations exceed the budget a bit.
As for candidates – adjusting your salary range and gaining much more on another relevant field can sometimes be a good idea.
For instance, if an employer offers you to work on a project you would enjoy, plus there's a chance to obtain the specific tech skills that were on your agenda, and the overall working environment and benefits match your needs and demands – is being flexible regarding salary an option?
The formula is still the same – do not lower your criteria, prioritize. Calculate the gains and ensure your success. Which types of compensation can recompense a slight shortage of financial remuneration?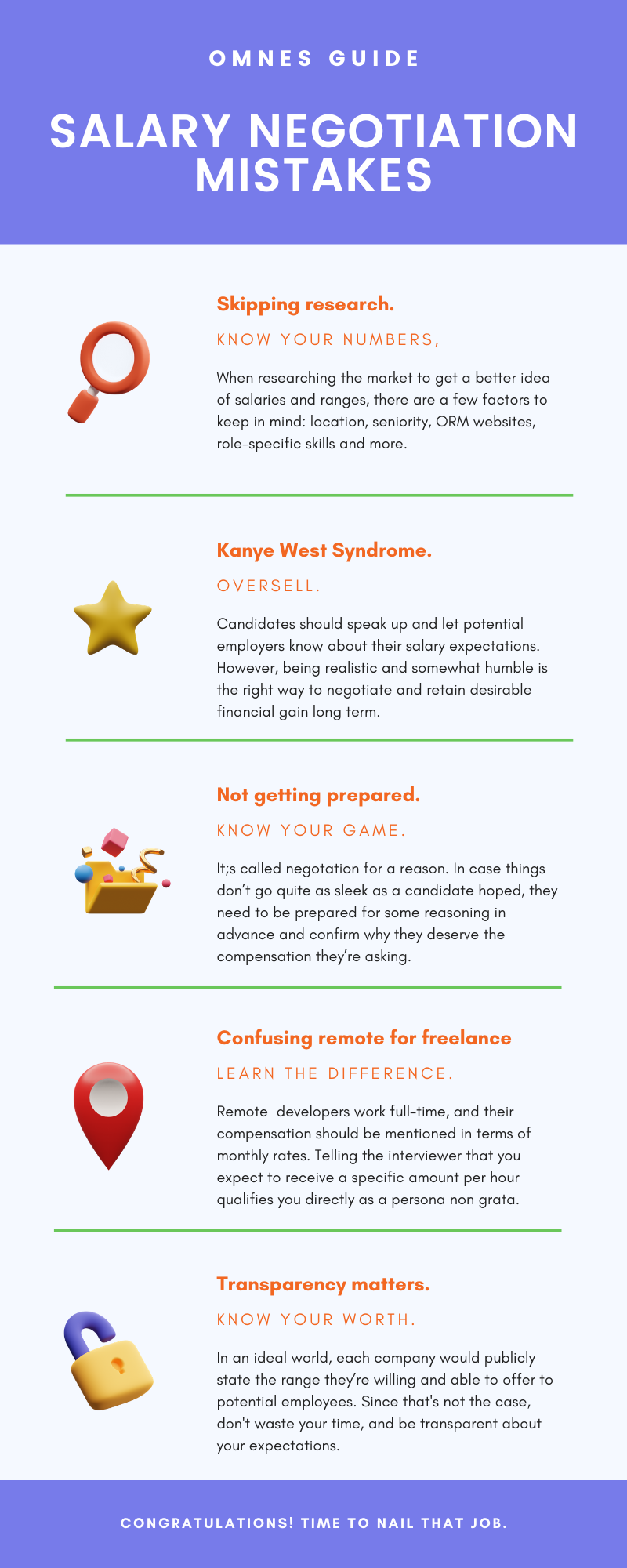 Freelancing and Remote work are not the same
Developers love full-time remote positions. Recruiters are equally thrilled to reach out to candidates regarding these positions since fewer candidates will leave them on read. Remote work is a small step for humankind, but it brings at least two or three small victories to recruiters daily.
Even though working remotely is one of the most popular types of employment, some candidates don't know the first thing about how it works. There are a few major differences between freelance and remote work.
Please, and I cannot stress this enough – do not speak in terms of hourly rates when you're negotiating a salary for a remote position.
Remote developers work full-time, and their compensation should be mentioned in terms of monthly rates. Telling the interviewer that you expect to receive a specific amount per hour qualifies you directly as a persona non grata, and you can expect a rejection letter pretty soon.
Learning the difference between freelance and remote jobs takes about 1 0 minutes, and it brings you closer to a lifetime of successful salary negotiations.
Transparency matters
The lack of transparency regarding salary expectations and offerings is another common mistake both companies and candidates tend to repeat.
Postponing the inevitable discussion regarding the financial aspect only wastes time and prolongs hiring. In an ideal world, each company would publicly state the range they're willing and able to offer to potential employees.
Since this is rarely a case, covering this important topic should still be near the interviewing process's commencement. Everyone involved would be in the loop and appreciate the insights.