Are you hiring a Sales Manager? One of the first steps toward filling any open position is to create an accurate and precise job description. Writing the list of all principal responsibilities, skills, and qualifications rightly is tremendously important, and it influences the entire course of recruitment and hiring processes.
The search for a fitting Sales Manager can commence once you're in the clear regarding your expectations, which need to reflect your actual necessities and match the overall role-specific duties. Let's take a peek at what a Sales Manager job description should contain.
What does a Sales Manager do?
Sales Managers' duties alternate depending on the size of the company. Nevertheless, the majority of Sales Managers direct the distribution of products and services by specifying sales areas, planning and communicating sales goals, and setting training programs for the company's sales representatives.
A Sales Manager is the person in charge of leading and managing a team of salespeople within a company. They establish sales goals, develop a sales plan, take charge of analyzing data, assign duties to members of a sales team, and mentor them.
Sales Manager is often included in the hiring process and participates in the firing process. Sometimes, Sales Managers even recruit, hire, onboard, and train new members of the sales team. They advise the sales representatives to enhance their sales performance. They have a say during an entire employee lifecycle within their team.

Sales managers keep in touch with sellers, traders, businesspeople, and distributors as well. They analyze sales statistics their staff collects to define the sales potential and requirements of products and to observe customers' inclinations. They interpret complex data to target the most promising areas.
Sales managers collaborate with managers from other divisions, such as Marketing Managers. The link between these two departments is crucial to helping a business extend its client base. The sales department works closely with research and design departments, and Sales Managers make sure this cooperation runs smoothly and effectively.
Sales Manager – Job Description
Before naming all the daily duties, tasks, responsibilities, and necessary skills and knowledge a Sales Manager must possess, make sure to add a brief paragraph that describes the organization.
This introduction should include the most relevant information about the company and its domain, projects, services, and goals. The next section should contain a job overview.
Job Overview
Our company is looking to hire a high-performing Sales Manager who would support us to meet our revenue growth targets and customer acquisition by keeping our company's approach fresh and innovative.
You would be in charge of increasing our sales team potential, developing sales plans, and explaining those plans, methods, and strategies to the upper management.
Key Responsibilities
Successfully managing the sales team
Accomplishing growth and hitting sales targets
Outlining and implementing strategic business plans
Growing the company's customer base
Being in charge of recruitment, goals setting, coaching, and monitoring performance of sales representatives
Building and raising healthy, long-lasting customer relationships by partnering with them and understanding their necessities
Presenting sales, revenue, and expenses reports and realistic predictions to the management team
Identifying rising markets and market shifts and gaps while
Being entirely informed about the new products and competition
Requirements
At least 5 years of working experience as a sales representative or sales manager, during which you consistently met or exceeded given targets
Engaged in continuous education through seminars, workshops, and conferences
Excellent communication skills, written and verbal
Understanding customers' needs and dedication to providing top-notch customer service
Previous involvement in customer relationship management
The ability to present credibly and persuasively at all levels of the organization
In-depth knowledge of sales process planning
Capability to drive the sales process end-to-end
Solid business knowledge and industry expertise
Outstanding mentoring, educating, training, and people management skills
Bachelor degree in business or another related field
Once you have stated the requirements and responsibilities, wrap it up by listing a few benefits your company would offer to a newly hired Sales Manager.
Job seekers and passive talent recruiters reach out to should have a clear understanding of what they'd be getting into. The job description should have them in the clear regarding what they would give and receive.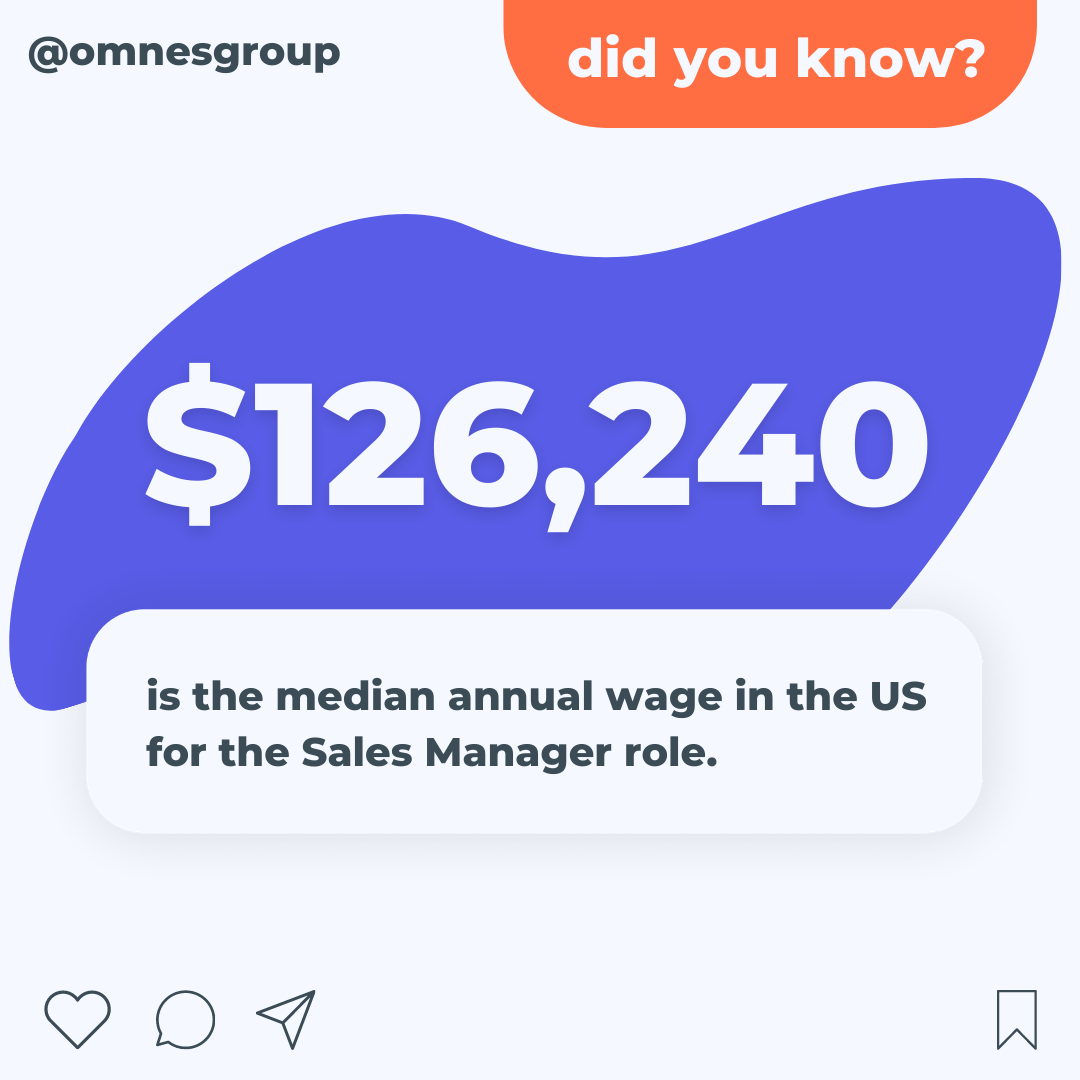 How can recruiters spot a good Sales Manager?
The recruitment process starts with sourcing suitable candidates, presenting them with a job opportunity, then scheduling and conducting interviews. A recruiter can come across a candidate profile whose previous experience, seniority level, and background match the majority of requirements listed in the job description.
However, recruiters and hiring teams should make sure they have encountered a fitting Sales Manager by asking particular questions. Some interview questions are role-specific, while others help recruiters learn more about the candidates' personal traits, qualities, preferences, aspirations, and what motivates them.
Sales Manager Interview Questions
All interviews should have a certain structure. Here are a few interview questions that might come handy when recruiting and interviewing a Sales Manager.
What do you like about sales? What about the sales management role?
Is there something you dislike about sales?
What was the most significant achievement you've had with sales?
Can you describe the sales process at your previous company? What were the right sides of it, and what needed improvement?
Have you ever modified a sales process to enhance efficiency, reduce costs, or boost revenue?
Are you comfortable with doing data analysis?
What do you think motivates sales representatives the most? What motivates you?
What makes a sales representative training session successful?
What training method do you find to be most helpful for new representatives?
Which qualities and knowledge make someone a good leader?
What do you think would be the primary duty of a great manager within this organization?
How do you prioritize your tasks?
Can you describe a time you resolved a conflict between two team members?
How do you motivate your team?
These interview questions should only serve as an example and direct the recruiters and interviewers toward structuring their own set of questions. Feel free to explore more variations and topics you'd like to discuss with your sales management candidates.
Their area of expertise is relatively broad, and their precise duties vary a lot depending on their employer and their goals. Make sure to get to know as much as you can about them and their knowledgeable methods of making businesses more prosperous.
If you need help with hiring a Sales Manager, you've come to the right place. Drop us a line, and let's talk about it.