Instagram is a potent tool if you know how to use it. Today, it has become quite common for designers to have an instagram portfolio.
We all know the importance of a portfolio. It showcases designer's best work and all the skills one has; it should help you attract potential clients or employers. The portfolio has to be perfect, unique. In other words – it has to be you.
You want it to stand out amongst so many others. So, why not learn a few tricks that can help you do that? There are so many benefits to building an instagram portfolio: simple, free, with the potential to be seen by a vast number of people (there are more than 500 million active daily users on Instagram!), and it's excellent for beginners who might not want to spend money on a website.
Instagram is beautifully organized, and it allows you to arrange your work neatly, which makes it easier to emphasize the necessary parts.
If you still don't have an Instagram portfolio, get to work – it's a must-have. We are here to show you some basic tips on how to make it amazing.
Step 1 – Make Your Bio Perfect
Bio is the first thing someone sees at your profile, so naturally, it should sound captivating. The bio shouldn't be lengthy, just your essential information (you don't want to make it dull). The goal is to look professional and positive!
✅ Start with your full name, occupation, and location. All of that is quite important for a potential client. A name – so they can find you on LinkedIn, for example, and a location is sometimes significant, depending on the type of job the recruiter is considering you for.
✅ Add your website if you have one. If someone likes the work you posted on Instagram, they will be able to see more on the site (it's safe to assume you won't be able to display all of your content on Instagram). Also, some of your old work that's not on Instagram may catch a client's eye, who knows!
✅ It is useful to write an email address for contact purposes or add any account that you think could be helpful in further showcasing your work.
✅ In the end, consider writing something personal, like an ambition of yours or an interest. Write it in a casual and upbeat manner, maybe even add an emoji or two! The purpose of this is to make you seem approachable, friendly, the kind of person it's a delight to work with.
If the account gives the impression that it is somewhat impersonal, that might be off-putting to a certain number of people.
Step 2 – Let's Organize Your Instagram Posts
Here we'll share a couple of guidelines that have been proven as worthy. No need to tell you that what you post has to be your best work, you know that. But, those posts also need to be consistent.
Meaning?
There has to be an element that binds them, like an editing style, or a distinctive detail, maybe a color. Plus, when you glance at the feed, you want to see that it's visually appealing and organized.
The most crucial part is that it somehow stands out from other accounts! Use your imagination. Come up with a signature that everyone will immediately associate with you, something memorable. It sounds simple, but this trick helps a great deal.
 

 

View this post on Instagram

 
What you post is not the only important thing – how you post it is essential as well. Picking the right time is an effective way to make sure more people see your post.
Look at your Instagram Insights, and they'll tell you all you need to know. Posting regularly is also something you must do to keep your current followers interested and gain new ones, but don't feel pressured to post every day or more if you don't have significant new content.
It's better to skip posting one or two days than to share the work if you're not 100% satisfied with it. Everyone has a creative block sometimes; we are just human after all. If that is the case, you can maybe post the old work that you love but didn't manage to post before.
Instagram portfolio: Behind the Scene
Another idea is to show behind the scenes photos or videos (steps of your creative process), a part of your daily routine, or even personal photos occasionally.
You give insight into your life and help people get to know you – if they like your work, they are likely to be interested in knowing who you are.
Designers behind some successful accounts advise using a scheduling platform to help you stay consistent in posting; this is helpful when you find yourself buried in work, and you don't have the time to take care of Instagram on top of everything.
That's about it when it comes to the picture or video itself. But what about the caption? Don't underestimate its power. A wrong caption can ruin the experience of rich content.
A perfect caption is short, precise, and compelling. Like always, you wish to sound positive. Feel free to add emojis and hashtags, but know that the rule here says that less is more.
A lot of hashtags can make your post seem like spam, and nobody likes that. Add some space between the text and them, and try not to put more than 3, or 4. A nice trick is to put hashtags in the comment, so they disappear when the comments pile up.
Now that we've mentioned comments: people always appreciate you answering them!
Communication on Instagram Is Essential
We're talking about social media, after all. But, it's not just answering all those comments you got. Although it is crucial to interact with followers, clients, and brands as much as you can, there is more you need to worry about. Everyone pays attention to Stories, Highlights, and IGTV.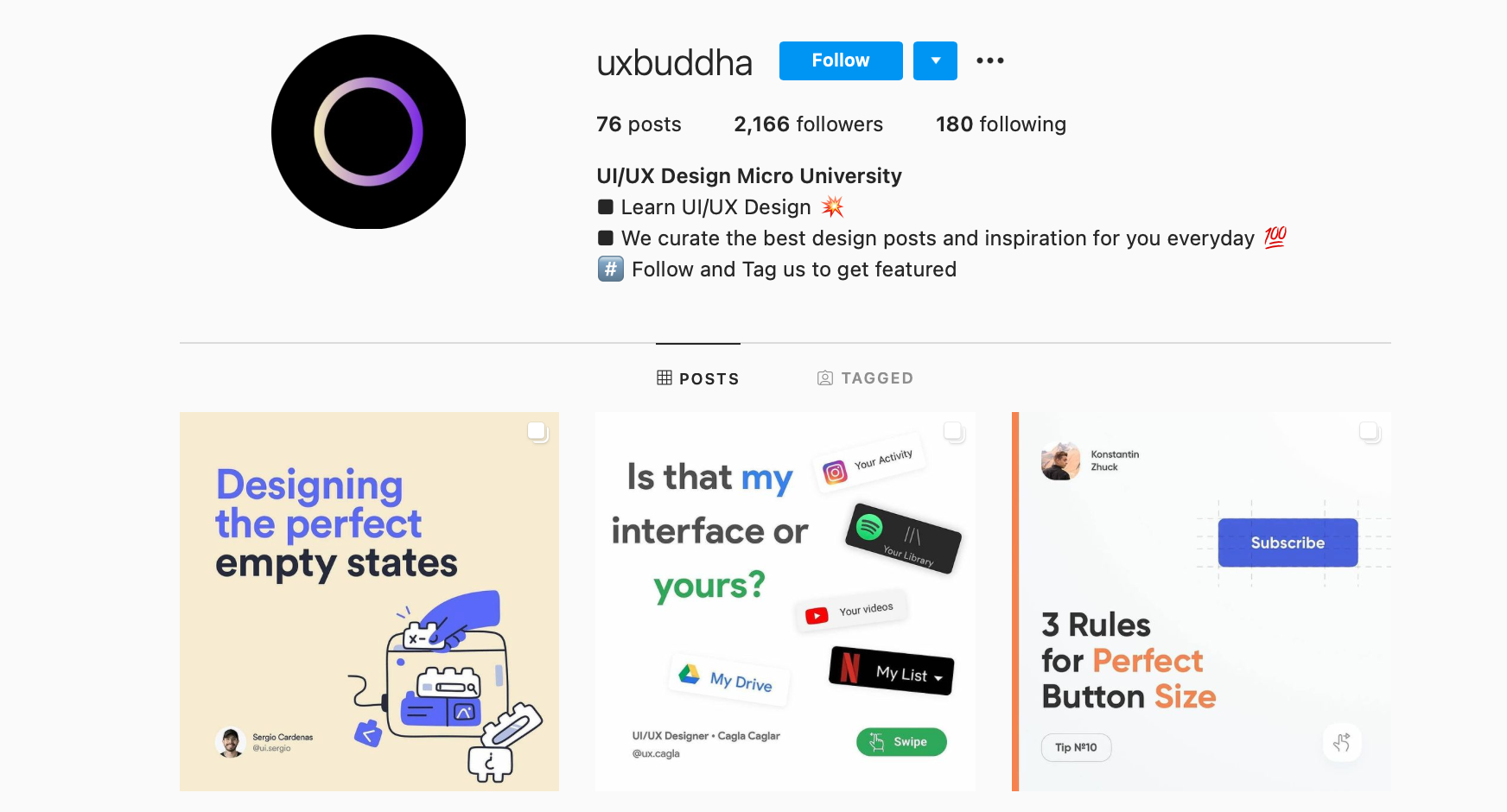 Use Stories to Compliment your Content
Don't fail to utilize this. Be frequent with your Stories. They are an excellent place for behind the scenes videos, for example. Also, promoting collaborations, upcoming events, or new work, it all finds a home here. You can share your recent post to your Story and increase the number of people who see it.
Stories are a convenient place to inform your followers about giveaways, which are the standard practice these days.
Who doesn't love getting free stuff?
Perhaps you can start having giveaways from time to time?
There are no rules, honestly. Just go with the flow, and as usual – stay true to yourself and your style.
Be sure to save your Stories to Highlights, and organize them neatly in different categories (important ones first!). This adds to the impression of your profile and makes it look even better. And if all those Stories aren't enough, there is IGTV too.
Besides taking care of your content, it is useful to connect with other designers. Let them know you like their work.
Being a part of the community can be extremely beneficial. Interact with the brands – comment on their posts, or tag them in yours. Don't be shy!
Do your best to make sure you are seen and heard!