Every hiring process commences with identifying a hiring need. Once the organization chooses to build up their product by considering the users' preferences, necessities, and requirements, they should most likely reinforce their team with a UI Designer. Hiring a UI Designer should begin with creating an adequate recruitment strategy, and by writing an accurate Job Description. Once the hiring team gets the JD done, a whole lot of sourcing, screening, and interviewing are coming your way. But, first thing's first – before you start looking for a UI Designer that will help your company create a beautifully arranged and functional product, you should make sure to understand their role fully. 
What is UI design?
UI is short for User Interface, and one of its principal goals is to convey the brand's values by paying attention to its visual representation and developing firm bonds with the users. UI betters the users' understanding of the product, enhances their interaction with it, and enables them to have a pleasant experience. It simplifies and beautifies the route towards achieving users' aims. 
UI design represents the process of building interfaces in software or computerized devices, while Designers simultaneously focus on looks, features, and style.
What does a UI Designer do?
UI Designers attempt to create interfaces users find appealing and suitable. These specialists mainly concentrate on the surface. They carefully consider the appearance and layout. It is their responsibility to define how every element of the product should look.
Some of the features they are in charge of include buttons, text, and images, and other common elements. UI Designers think through their colors, shape, size, and placement, while following the guidelines, proven practices, brand's and market's requirements, and research results. In simple terms, – UI Designers build and ameliorate the entire visual experience.
While discussing UI Designers' objectives, we can differentiate the visual part of their jobs from the "human" component they strive to incorporate into the product. Not only do their efforts enable users to navigate through the product quickly and trouble-free, but they also tend to form relationships between them and the product. UI Designers contribute to the users' loyalty and awaken their willingness to come back.
UI and UX Designers collaborate closely. UI Designers ensure that each page and each step the user experiences when interacting with the complete product corresponds to the concept previously created by UX Designers.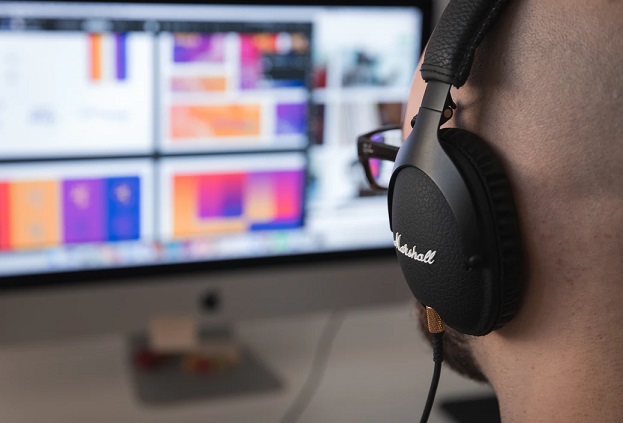 Differences between UI and UX Designers
These two roles are often paired as UX/UI design because these terms form a supreme combination. UX/UI Designers build extraordinary websites, applications, games, and other digital products. Still, there is an essential difference between UX and UI design.
The most straightforward way of separating UI from UX design is by saying that UX makes sure an interface is serviceable and practical, while UI makes it exquisitely aesthetic. UX design is oriented towards the analysis and gaining insights into things like the potential problems customers might encounter, market gaps, and it researches competition.
What makes a UI design good?
Users are quick to judge a product. The parameters they usually have in mind include visual experience and the amount of effort they need to invest in utilizing the product. UI Designers aim to provide users with a pleasurable experience.
However, even though each UI Designer will take a moment to contemplate the aesthetics of a product and its features, they must be aware of the fact that users tend to praise those products that celebrate simplicity and save their time.
Look for a UI Designer who is familiar with these simple rules & has the qualities we listed below.
Honesty and clarity:
UI Designers should always remain honest, direct, and consistent. UI represents ideas or products that lead their users to success.
Social proof:
Each positive feedback should be used to help potential users obtain a better image of the product. UI can be strengthened by pointing towards the traces of customer satisfaction through references or testimonials.
Confidence:
… With a dash of authoritative. Avoiding anything that feels indecisive is an excellent way to become trustworthy.
Simplicity & ease of use:
Creating a predictable scenario for users increases their willingness to use the product. Direct their focus to those features that will help them reach their goals in no time.
Style:
UI Designers must pay attention to colors, styles of clickable actions, elements, items, and plain text.
Merging:
Great UI can be achieved by merely uniting similar functionalities. Repeatedly creating features with the same purposes would affect the users negatively.
UI Designer Job Description
Every Job Description should start with an introduction. Writing a concise and engaging paragraph about a company will help job seekers and passive candidates learn more about their potential employer. They should be able to read sufficient information about the company's culture, values, and benefits. Working hours and remote working possibilities should be fused into the JD as well. Everything that makes the company stand out should be in plain sight.
The first sentence that follows the introduction should represent the candidate persona in short. Candidates should understand precisely what the company is looking for once they read it. It should name a few qualities the new hire should possess, their experience, seniority, their background, the structure of the teams they've previously worked within, and methodologies (Scrum, Kanban, Waterfall) they're comfortable with.
The next two paragraphs should include Responsibilities and Requirements.
User Interface Designer Job Description – Template
Responsibilities
Cooperating with developers, UX Designers, and copywriters.
Creating, using, and improving wireframes, prototypes, style guides, user flows; adequately communicating your ideas by using these methods.
Presenting, explaining, and defending your design determinations.
Design thinking and knowledge of fundamental principles (color theory, visual weight, etc.)
Continuously learning and being up to date with modern design standards
Requirements
3+ years of relevant UI experience
A strong portfolio that will be discussed during the interview
Hands-on experience creating wireframes, prototypes, storyboards, and user flows
Extensive experience with tools such as Photoshop, InVision, UXPin, Quartz, Sketch, Illustrator.
Basic understanding of HTML5, CSS3 Javascript.
Having a problem-solving mindset.
Being an excellent team player who has experience in working with Agile teams.
Good communication and listening skills
UI Designer Interview Questions
Interview questions should be adjusted to suit the company's needs, reflect their aspirations, goals, and aims, and to match the candidates' experience, knowledge, and tendencies. Each screening and interview must be personalized. However, there is always a certain structure that helps the interviewers find out the necessary information and grasp the candidates' expertise.
Describe your typical workday as a UI Designer.
What are the core areas of your UI design expertise?
What is the necessary information you need before you start designing?
How do you estimate the timeline of your design process?
Can you describe an app with the best and an app with the worst ever user interface?
What do you think of Sketch, and why it has gained such popularity among UI Designers?
How would you redesign a well-known user interface?
Hiring a UI Designer
If you're hiring a UI Designer, you might consider collaborating with a recruitment agency. Recruiters can take charge of sourcing talent, going through their CV's and portfolios, conducting phone screening, and provide you with valuable insight into candidates' knowledge. You'd be receiving resumes of only those UI experts that match your requirements, culture, values, and mission.
Are you ready to start hiring? Tell us about it.