Are you planning to start a tech company in Serbia? You heard that the IT industry is strong in Serbia, but you don't know much about this country, people, their skills and knowledge? This article will help you explore the marketplace and hire software developers from Serbia.
How Can You Hire Programmers in Serbia?
Why Serbian Developers are Top Choice?
Average Programmers Salaries in Serbia
Are you planning to start a tech company in Serbia? You heard that the IT industry is strong in Serbia, but you don't know much about this country, people, their skills and knowledge? This article will help you explore the marketplace and hire software developers from Serbia.
It's the truth, the IT industry is trending in Serbia. There are so many passionate, dedicated IT professionals that are changing the way technology works. However, Serbia isn't full of jobless developers. You have to fight for them! In the large pool of talents, you can find a professional with the level of expertise required for a job. Moreover, they will bring you the best quality of code at a reasonable price. IT professionals from Serbia have a strong understanding of western business culture and they are proficient in English, so working with them is enjoyable.
Just to make sure that you know, Serbia isn't the same as Siberia or Syria! Serbia is a country situated in the central Balkan. Belgrade and Novi Sad have many IT companies and IT talents that can help you develop your idea. Also, there are many talents in Niš and Kragujevac. Programmers are following the steps of the greatest Serbian scientists Mihajlo Pupin and Nikola Tesla. In a sea of programmers in Serbia, you might discover the next inventor.

Serbia scored 92/100 on World Bank's Doing Business Survey for Starting a Business. It takes 5 working days approximately to complete all the procedures and it costs under 100$ to establish a DOO (LLC) in Serbia.
How Can You Hire Programmers in Serbia?
Remote developers and freelancers from Serbia
More and more people chose to work remotely. This is one of the gig economy trends that will continue to rise. Some companies will have to rethink their hiring process because of that. Some of the top developers on Upwork are from Serbia. They have a good reputation because of the quality of their code and their dedication to the work. However, there is still the matter of remote vs. on-site work. Remote jobs are not suitable for everyone and there still are developers who prefer onsite jobs. So, if you want to open an office in Serbia, you will have plenty of choices when hiring someone.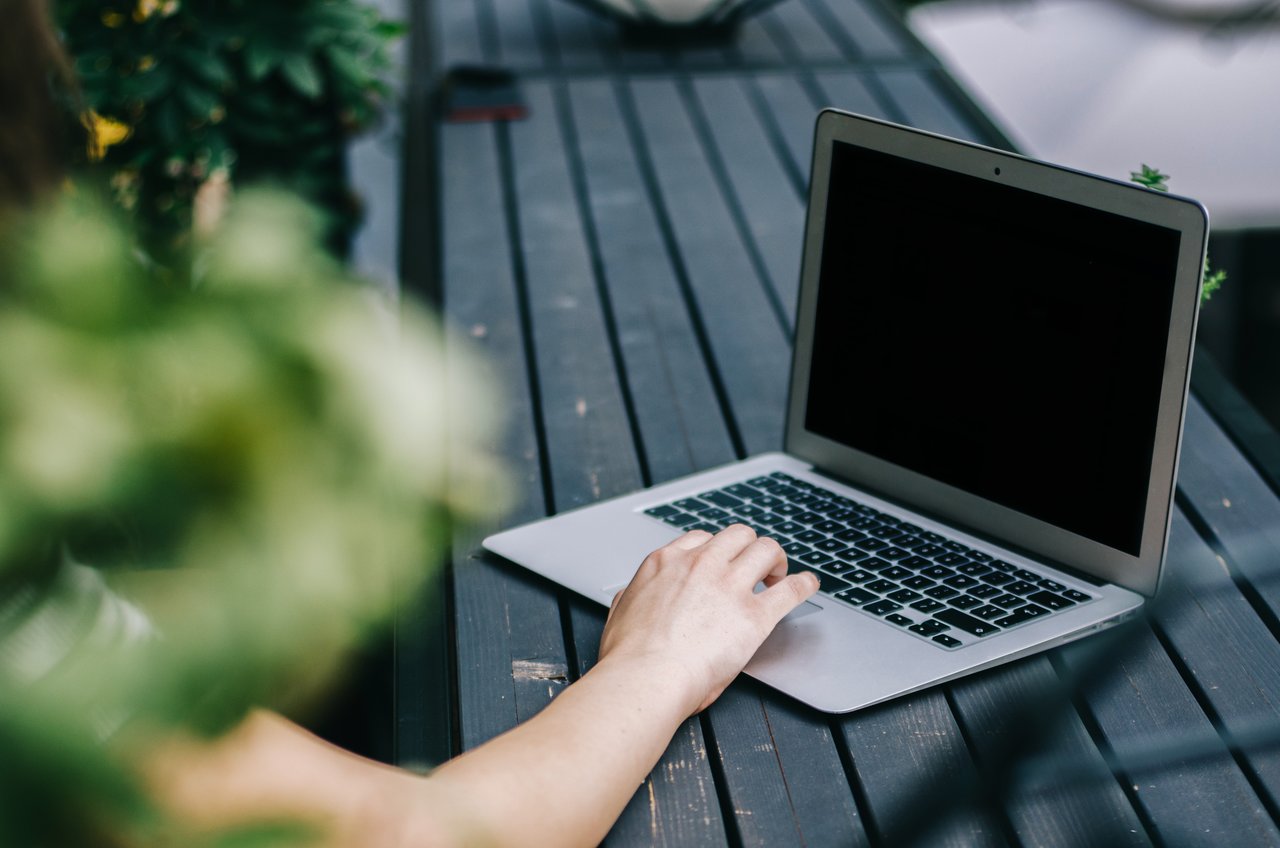 IT Recruitment Agencies
Yes, there are a number of A-level IT professionals in Serbia, but the challenge is to find the person who fits in your company the best. This is where Omnes Group steps up and delivers the candidates based on your requirements. The most important thing is to hire a person with the right technical skills, without unconscious bias.
Opening the IT company has its challenges, which means that you need the most effective way of discovering candidates with the right technical skills.
By using our IT recruitment services, you will reduce time-per-hire and lower opportunity costs. While you're focusing on finding an office or preparing paperwork for your new company, our recruiters can help you find the best candidates.
Job Boards
There are a number of job boards that can help you get in touch with candidates such as Poslovi Infostud or Lako do Posla. You might receive thousands of resumes to select an ideal candidate fitting your project. However, Omnes job board is different from these platforms because we post jobs only from the IT niche and we have a database of developers that might be perfect for your company. You just need to deliver us information about your requirements and our experienced IT recruiters will handle the rest.
The result is that you will receive a clear and objective insight about the top candidates and have confidence when making offers. This is the most efficient way for you to get in touch with professionals from the IT industry.
Outsourcing companies
Serbia is one of the most attractive outsourcing destinations in Southern Europe. Export of IT services for the first time exceeded one billion euros last year. To be more precise, IT services last year reached a new record with an export of 1.135 billion euros, which is an increase of 26% compared to 2017 when the export amounted to 899 million euros.
Highly skilled in programming, testing software and designing websites, application design, developers from Serbia had become a strong workforce for companies from the US and Western Europe. Nevertheless, outsourcing services can be more expensive than hiring. That's why most of the big tech companies established their development centers in Serbia.  
Dedicated Teams
Most of the IT companies are using an agile methodology, which means that developers have a strong work ethic and that they work very quickly in order to meet their deadlines. They are relying on each person in their team and work together in order to bring the best product for their customers. Tech companies are working hard on inside branding – they are organizing team buildings and other events that will bring the team closer. Also, they care about employee development, both personal and professional, so they send developers to conferences and courses where they can boost their knowledge.
Relocation
Many programmers from the Balkan are willing to relocate if they get a good offer. We already have experience with relocating developers to The Netherlands, Belgium, and Germany, and thus we know how to negotiate relocation. So, if you need an A-level in-house tech professional, we can help you find one. We will go through the details with you, interview candidates, and get in touch with the ones that meet your expectations.
Our pay-per-stay model is very convenient for IT companies because we invoice our fees on a monthly basis over a maximum period of 12 months. You're secured if the talent leaves – we'll just stop invoicing you. However, our goal is to find a perfect match that will be happy in your company, and that will fit perfectly in your team. It had never happened to us that developer left the company, so we believe that we're doing our job well!
However, if you want to fire somebody, you should give them one month notice period. It can last longer or shorter – you have the freedom to set this yourself, as long as the time period is longer than what is required contractually.
Why you should hire software developers from Serbia?
Expertise
According to PentaBlog, Serbia is in 5th place in worldwide developer rankings! Big global companies such as Microsoft, Nutanix, GoDaddy, Adobe, Endava, NCR Corporation, Telenor, Execom have their offices in Serbia. As mentioned, developers from Serbia had become a strong workforce for companies from the US and Western Europe. Why? They are skilled, talented, dedicated, passionate hard workers that every company wants to have.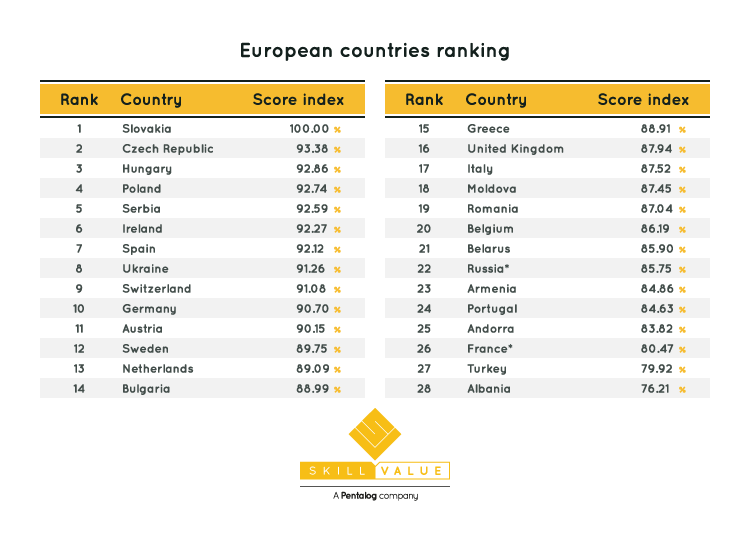 Tech Stack
Are you looking for senior software engineers? Or maybe seasoned DevOps and QA professionals? You can find them in Serbia! Not just them, but any kind of expert in the tech industry. Programmers in Serbia are using different types of frameworks and they are continually looking to improve their knowledge. Whether you're looking for a person who has experience in React, Angular, or JavaScript, junior, medior, or senior, you can find them in Serbia. The gaming industry is also trending in this country, so there are many game designers, 3D artists, and animators as well.
Most of the back-end engineers in the Balkans use Java and .NET as their weapon of choice. The second place is reserved for PHP and Python developers.
Here is a piece of info you should grasp: You will be less successful hiring remotely a Ruby developer. That is because, in Croatia, only 1% of programmers use Ruby, while the percentage of Ruby developers in Serbia is around 2%. On top of that, most of them already work remotely.
Education
Serbian children receive excellent primary and secondary education while technical sciences universities are on a very high level – Faculty of Electrical Engineering in Belgrade and Faculty of Technical Science in Novi Sad. While Belgrade University is ranked between places 301 and 400 on the Shanghai Academic Ranking list, the University of Novi Sad is one of the top 500 universities in the world in Mathematics.
Most students started working while they were still at the university, so they have an opportunity to apply their knowledge and skills to projects. Nowadays, children in Serbia are learning about programming from an early age. There are courses where children can learn Python. However, not everything is about the "official" education. A vast number of developers learned to code on their own because they are passionate about coding. Some of them are in the top job positions in massive tech companies because of their skills and knowledge.
Knowledge of the English language
People in Serbia have high English proficiency. Most people start learning English in kindergarten and pre-school, so the language barrier basically doesn't exist. Because of the school system that requires learning the English language, nearly everyone can speak English. Also, parents are aware of the importance of learning languages, so they are enrolling their children in English classes from an early age.
Average Programmers Salaries in Serbia
Salaries in Serbia depend on many factors, such as seniority and the city. Salaries in Belgrade are a bit higher than in Novi Sad and other cities, but the standard is higher there as well. The average salary for senior backend developers in Belgrade is around 3.144,77€, while in other cities in Serbia is lower. However, Belgrade is the center of the IT industry, so there are more choices. This table represents average salaries in Serbia, which means that there is a big difference if you want to hire a junior or senior developer.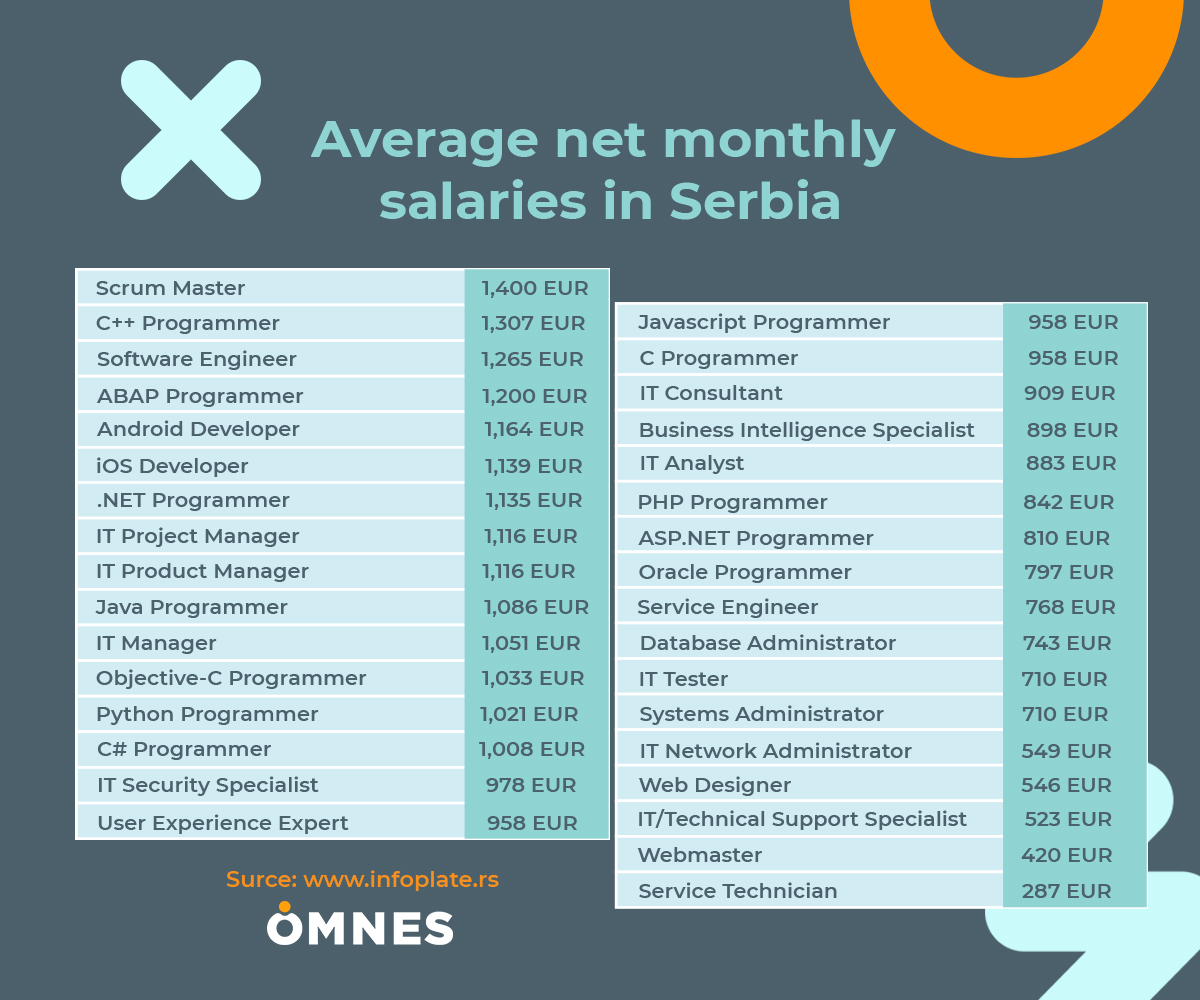 Are you ready to meet the best IT professionals from Serbia? Contact us and we will help you meet the best developers!