Working remotely has always been the most popular choice among tech specialists and other digital nomads. This type of employment has countless benefits. It drives flexibility and enables a more balanced lifestyle. During the past year or so, we have embraced it as a necessity rather than a perk. However, now when the world seems to be recovering, we are back at square one: remote vs. on-site work is once again a topic worth discussing.
The new new normal draws numerous questions and dilemmas. Although 90% of remote workers can solemnly swear that this sort of job is the best out there, both alternatives have some pros and cons. So, what's it gonna be?
What does it mean to work remotely?
Many consider being a remote worker a privilege. In fact, 77% of people who work daily outside a traditional office claim to feel far more productive. So, what are their jobs and routines like?
First of all, there are a few lines of work that can be performed successfully in the virtual world, meaning that they can be labeled as a work from home job. The most frequent roles that fall under this category include:
Programming jobs (and other tech roles),
Data entry,
Graphic and Web design,
Customer service and sales,
Digital marketing,
Online tutoring,
Content writing.
But still, what is the most basic definition of this widespread trend? It is classified as a highly flexible arrangement based on fulfilling tasks and responsibilities from a location that's not a typical corporate office.
Even though telecommuters who enjoy the many advantages of landing remote work opportunities can set up an improvised office anywhere they want, they are still usually called work-at-home employees.
Freelance vs. Remote Jobs
Although freelance and remote jobs share some similarities, they are fundamentally different. And even so, some people still mix them up. Whether that's due to unclear JDs or there's another cause for confusion, there has always been a thin line between these jobs that is often crossed.
Remote positions are considered full-time jobs, even though the tasks are being completed from home or another location outside traditional office space. There is usually a full labor contract involved, and the employer is in charge of paying taxes.
When it comes to freelance work, there is a greater deal of schedule flexibility. No working hours are specified, and the projects freelancers work on are mainly short-term. Also, freelance workers are obligated to pay their own taxes.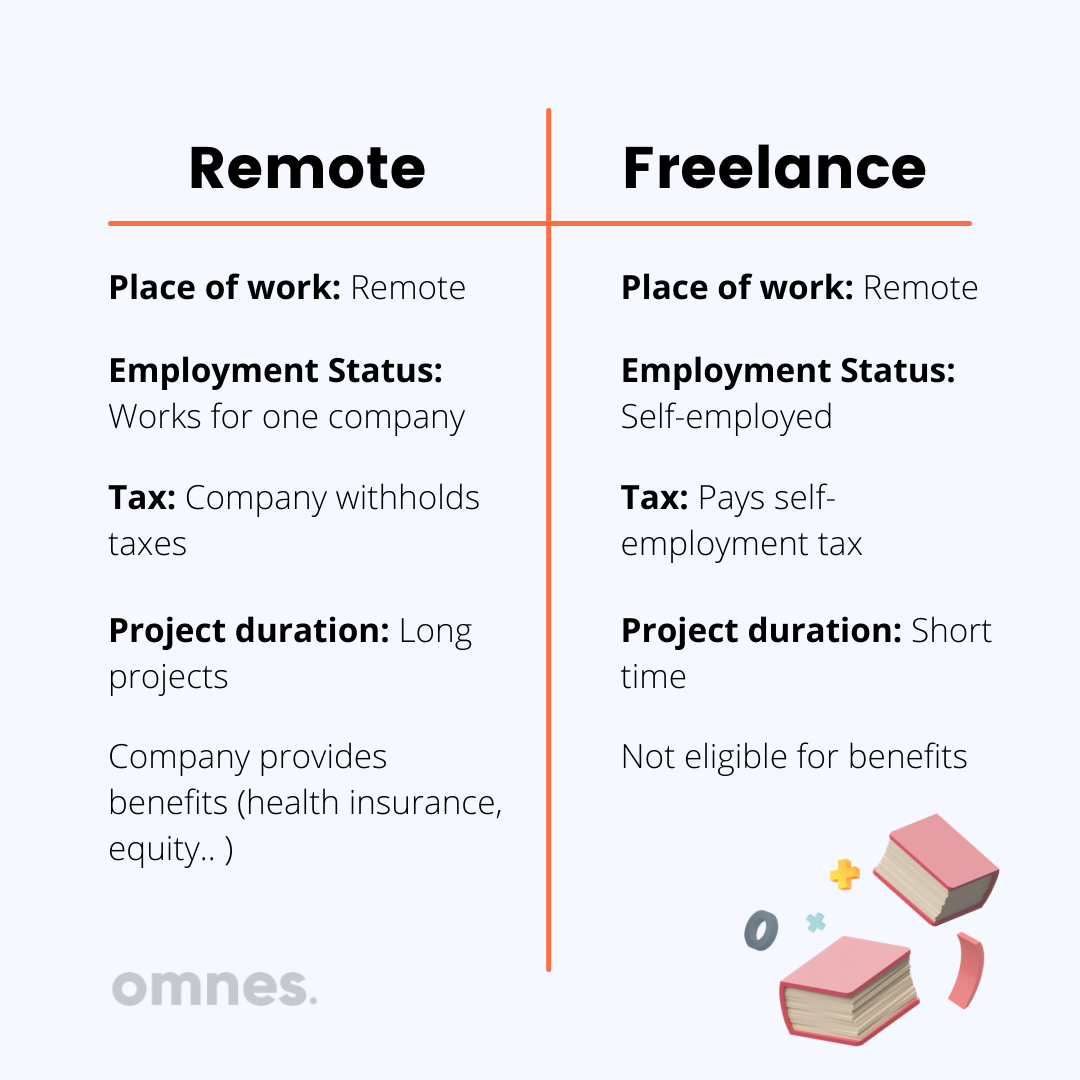 If you're infatuated with negotiable positions and remote work revolution, there is a third category you should know of – it's called flexible talent. These individuals operate as independent businesses and pay self-employment taxes. Like freelancers, they usually have more than one client.
The main point of flexibility they enjoy is that these professionals don't need detailed instructions and guidelines. They pick their own tools in order to build a product their client has requested.
All of these types of employment have countless benefits. And the adjustable schedule and balanced life are at the top of this list.
What does on-site means?
Onsite jobs are those types of employment where you need to be at the office to fulfill your daily duties. Although their structure is somewhat more rigid than when it comes to remote jobs, on-site positions can still be partly flexible. For instance, many offer flexible working hours.
And moreover, these jobs actually have several perks.
The Case of Overlooked Work from Office Advantages
What are the benefits of working from the office? Firstly, there is a matter of time management. Even though we all strive toward running our own schedules, the truth is that sometimes a routine helps. And a manager a few desks away? Well, they can also spark up some productivity – if they are good at what they do.
Other perks worth exploring (that might persuade you to go back to the office) include:
Simpler and more straightforward communication,
The ability to solve some problems faster,
Learning right on the spot from other team members,
A better understanding of company culture and values,
Enhanced soft and communication skills.
Still, all of these advantages are insufficient to make most employees yearn to go back to their desks. Keep reading and see the stats.
Will Employees Accept Working Onsite Now?
If you've got used to working from home, comfortably tucked in your favorite casual outfit (a euphemism for looking like a bum), and became a fan of all of those blissful, traffic-free mornings, would you be keen to go back? The odds say you'd respond to an actual face-to-face meeting invitation with OK boomer.
Not to be generalizing – some actually can't wait to be back in their offices. But still, most wouldn't mind staying long-distance involved and productive on their own sofas and terms.
In fact, just a few weeks ago, 80% of surveyed employees stated that they wouldn't return to the corporate workplace due to ongoing fear of Covid19. One-half of them confirmed that they would work on-site once the vaccines are available to everyone and the immunization process is completed.
On another note, quite similar research has shown that more than 80% of employers let their team decide whether they'll go back to the old ways or stay at their homes. However, less than 20% of companies are determined to advocate fully remote work and culture in the years to come.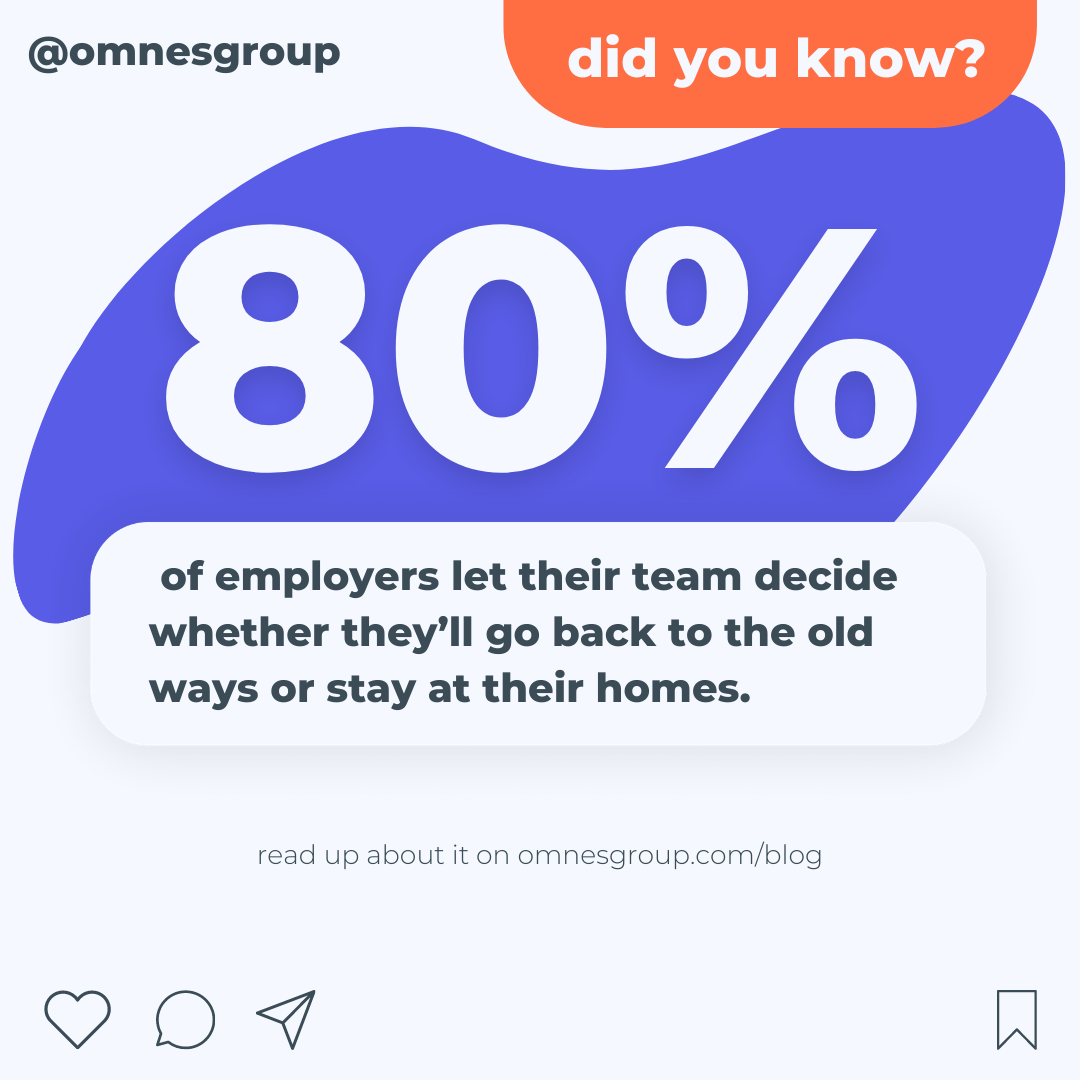 So, once the pandemic is over and some businesses embrace their prior methods and on-site roles, will their staff be satisfied? According to USA Today, only 25% of Americans will gladly go back.
The Future Looks Bright and Hybrid
Research shows that 35% of workers across the US wish for a hybrid workplace. That means that they would feel most comfortable with a mixture of remote days and on-site work. And although the majority would still prefer not to depend on anything but their laptops and WiFi, employers are quite prone to making a blended working environment. Hybrid employment is most likely the practice we will need to get used to and come to like.
So, how will it work? Some firms simply can't afford to go remote-only. And they already have a system that will suit everyone's needs. They either offer a certain amount of time away from the office or demand only occasional presence onsite.
While it might work well for some, this practice still interferes with some recruiting goals and practices. Tech recruitment, a branch with a particularly competitive and narrow pool, feels the real struggle. Sourcing tech talent from one area only is pretty tough. And now that it's proven that remote work works, it's even tougher.
But still, there is much more to explore and consider in this approach.
Share Job Posts With a Clear Work from Home Policy Section
When it comes to recruitment and candidate experience, one of the prime parts needed to succeed is job descriptions. To be more specific – well-written, precise, and honest job descriptions that reveal the company's true colors and hiring needs.
So, when switching from onsite to remote and then to a hybrid environment in a matter of a few months, be careful what you write.
Although you have most likely proudly announced on social media that you have purchased a brand-new set of coffee mugs to welcome the staff back in style, chances are at least part of your target audience hasn't read it. Be very precise – add a location right at the top of every job post and career page. And as if it wasn't enough, write it again in some suitable section of the JD. If you don't, you'll only receive several noteworthy resumes from talents outside your reach. And that will be a waste of time for everyone.
Here's the bottom line: Remote forever? State it loud and clear. Remote occasionally? Might work for many, go ahead and promote it.
One Final Work from the Office vs. Work from Home Break-Down: Pros and Cons of Both Alternatives
Both options have some advantages and downsides. But let's break them all down. Here are the main pros of working on-site:
Developing behavioral and interpersonal skills more easily,
Boosting your skills and knowledge more quickly,
Staying punctual,
Understanding company's goals, mission, and vision better,
Bonding with the team more comfortably,
Speaking to more experienced staff in person and discovering their approaches.
These benefits are all very significant for each employee. They are particularly helpful to juniors and also to newly arrived workers. By being in an actual office, they can adapt faster, and their onboarding process can be easier.
Now, let's see about the dark side:
Dealing with traffic jams daily,
Increased stress due to external factors,
Possibly more distractions,
More costs on both employer's and employees' ends.
And, of course, at this moment – there is a massive concern in regards to everyone's health. Since the pandemic is still going on (although the prognosis is optimistic), many would rather trade some oxytocin from social interactions for more safety.
How about remote work? First, here's the list of its basic selling points:
Saving time,
Cutting costs,
Being more productive,
Having a flexible schedule,
Overall satisfaction with work-life balance,
Leading a healthier lifestyle.
Many people, especially tech professionals, have been advocating for this type of employment for a long time. And with the global crisis that struck, remote work has become a necessity. And once we've grasped its true beneficial nature, we often overlook the disadvantages of working remotely:
A lack of relationships (and sometimes quality communication) between colleagues,
Isolation and loneliness,
The inability to access some valuable resources on time.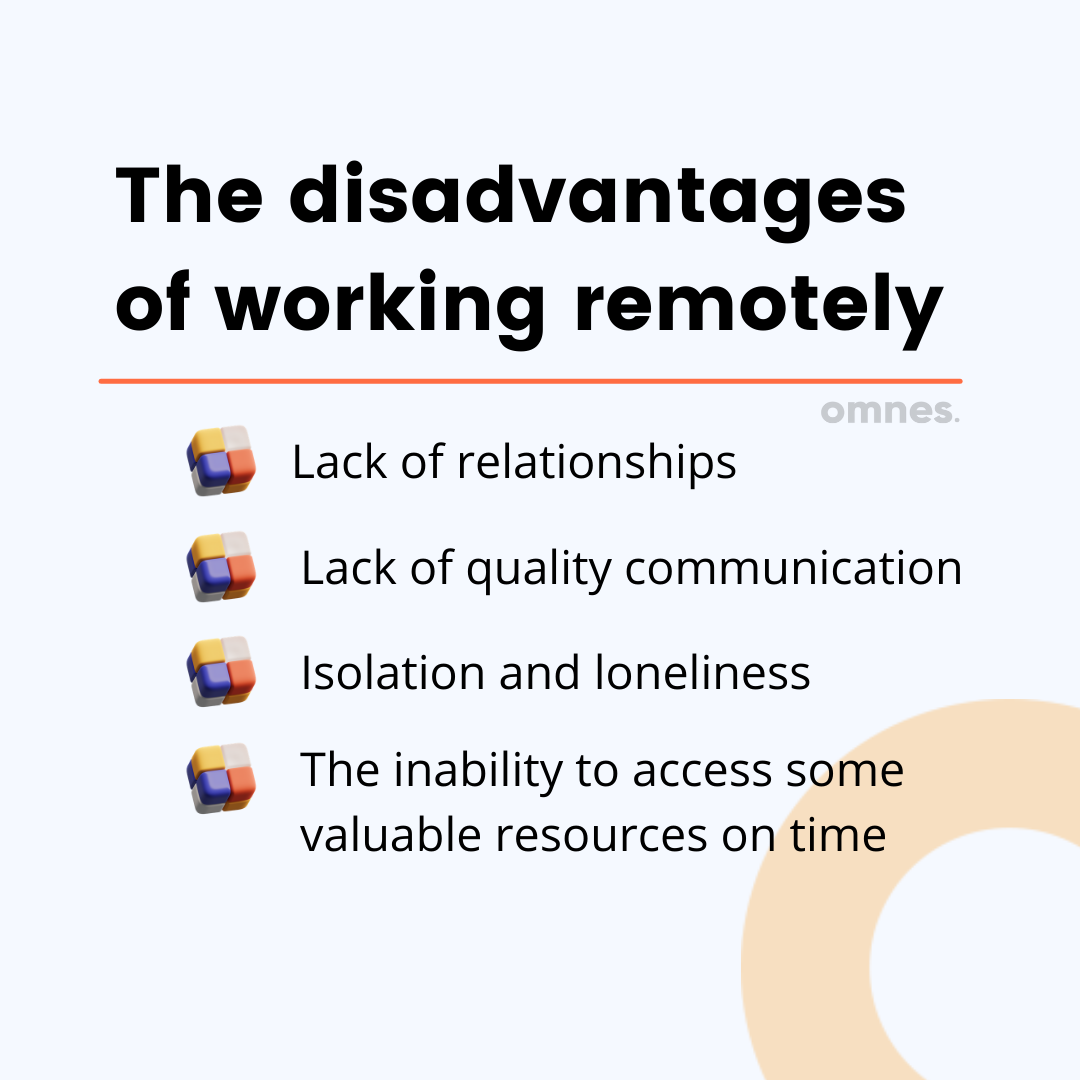 Still, if you aim to overcome these difficulties and continue working from home – you might just get it right. With proper tools and good organization, this employment type will bring excellent results and enhance employee experience.
Remote vs On-Site Work: Who Will Have the Final Say?
Judging by the stats – employees will undoubtedly have a say in creating hybrid environments or perpetuating work from home. Still, even though the talent market is pretty tight and demanding, employers will highly unlikely be up for indefinite remote work.
Their inclination toward it will probably end once the pandemic ends too. But since employees will presumably stay committed to their flexible ways, will they rather look for a new job than adjust again?
Time will tell. But for now, both tech and non-tech professionals are very interested in working remotely.