If we asked a bystander who lacks insights into recruiting and hiring, they would say that the recruitment process seems like an uncomplicated search for talent in a huge job seekers pool. However, its inner patterns, mechanisms, and practices are much more complicated than it appears.
The recruitment process consists of identifying the hiring need, analyzing and preparing the role-specific requirements, distributing job posts, reviewing applications, screening, and selecting the most suitable candidates. Building an efficient recruitment funnel enables companies to include and assess all the stages a candidate moves through before getting hired.
Ensuring that your recruitment funnel is created in the best manner means ensuring that the entire hiring process runs according to plans and that your company attracts top talent.
What is a Recruitment Funnel?
Before we start to discuss the strategy that leads toward obtaining the most efficient recruitment funnel, we should define the term itself. In a way, all funnels represent a process of narrowing down a broad audience, where every move is being measured and optimized.
Sales and Marketing professionals have been known for using the step-by-step funnel method for years. The first step implied casting a wide net, which is followed by progressively turning inquiries into leads. Today, recruiters utilize the same tactics for sourcing and attracting potential candidates.
The recruitment funnel got its name after a metaphorical term that demonstrates how it organizes, facilitates, and clarifies the process. The recruitment funnel is a strategy that outlines how to accurately manage various stages of the hiring process most practically and effectively.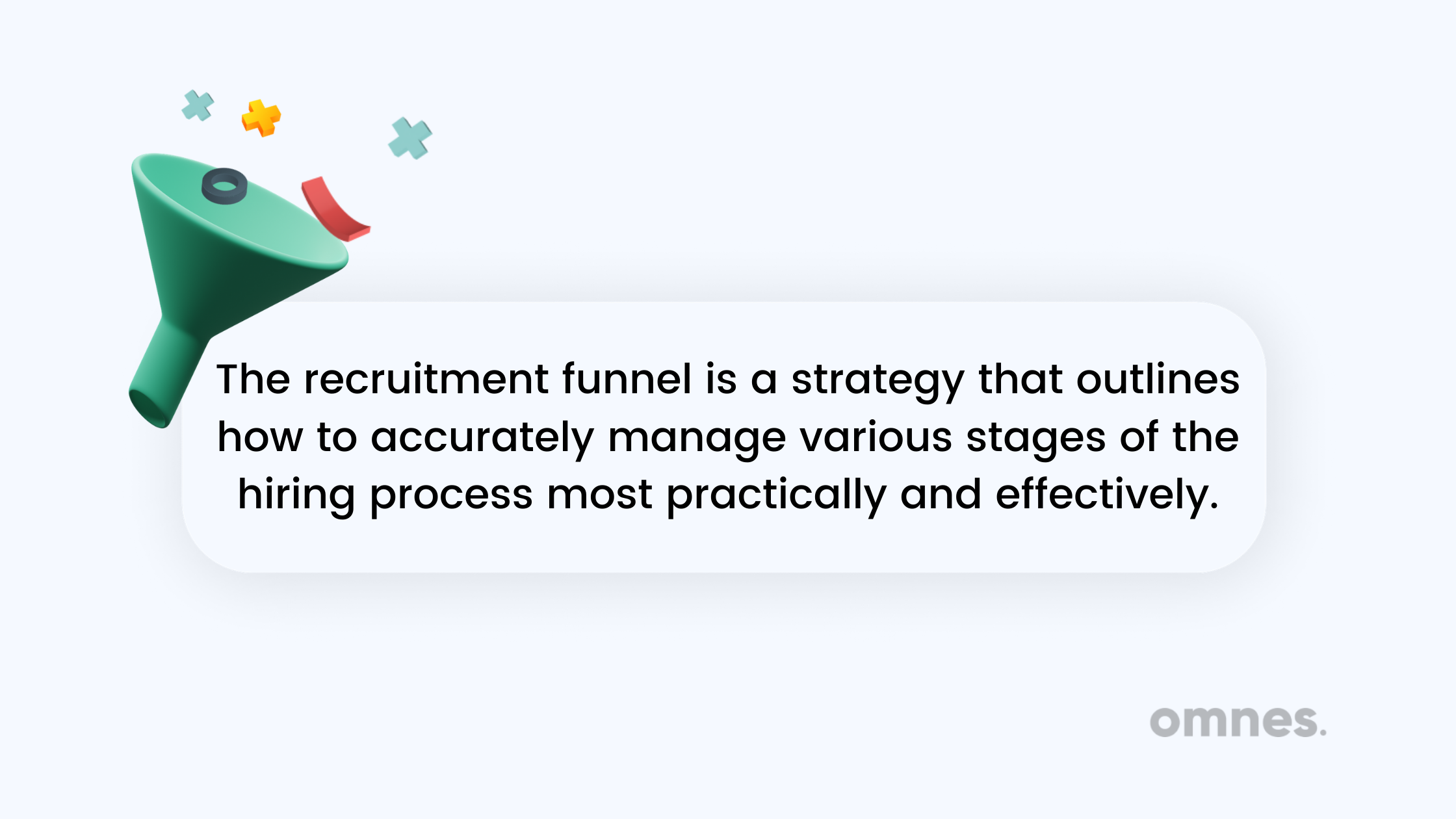 Recruitment Funnel – Steps and Structure
Sourcing and hiring the most suitable candidates can become challenging and lengthy. Creating an efficient recruitment funnel enhances the recruitment strategy and helps companies conduct the hiring process more smoothly. Every recruitment funnel consists of the same unavoidable steps:
Preparing and promoting the application process
Attracting and engaging passive candidates
Conducting screenings and interviews with selected candidates
Hiring the most qualified candidates
How to Perfect your Recruitment Funnel
Make your company stand out. The first thing an organization should take care of is informing job seekers about the job opening. At this point, companies must achieve the most maximum visibility possible for their job post.
Developing a social media strategy is vital to boost the employer brand. In addition to it, companies often promote open positions through career sites, job aggregators, and job boards.
Build an efficient sourcing strategy. Managing the sourcing process adequately is an essential part of recruitment. Employers must take the time to analyze the job's requirements and create their ideal candidate persona.
Defining the characteristics, tech skills, and personality traits that make up the perfect hire should come before the actual recruiting process starts.
Finding the perfect match requires initial screening. No recruiter should judge a candidate based on their resume or LinkedIn profile alone. Don't forget – candidates are forming their opinion about your brand throughout every interaction with it.
Recruiters should always conduct a brief yet informative phone or online screening with candidates. This step enables both parties to grasp each others' expectations, demands, and capabilities.
Assess and optimize your recruitment process. Every aspect of your candidates' experience is significant. The first impression is usually based on the job description.
Making the entire hiring process feel like a pleasant journey improves the candidate experience and helps create long-term collaborations.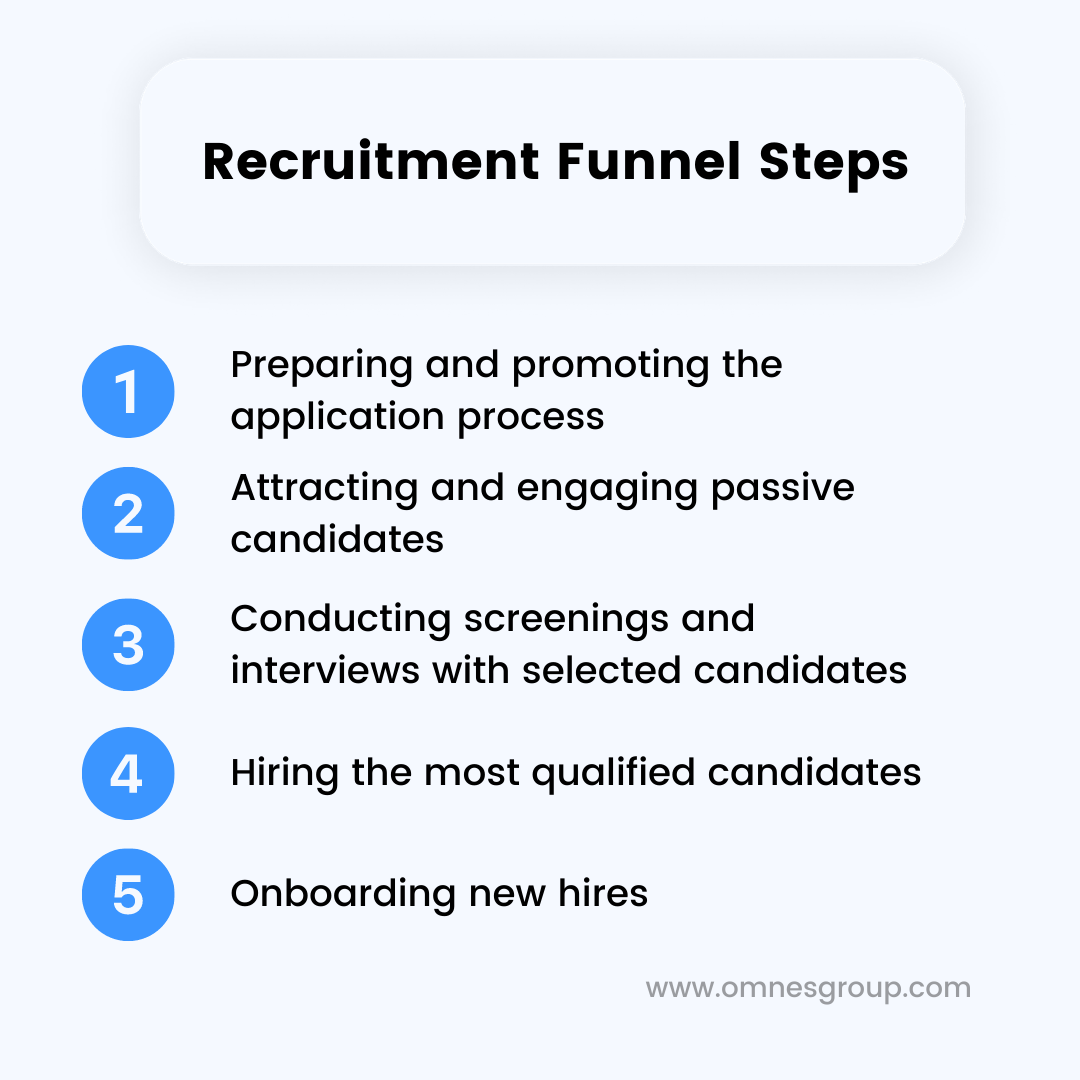 Recruitment Funnel Metrics
Every HR professional and recruiter should track certain recruitment metrics. Some of them enable creating and testing a recruitment funnel and its efficiency.
Those metrics are:
Source of hire
Time per hire
Quality of hire
Cost per hire
Recruitment funnel KPI
Source of hire
Recruiters use various means, platforms, and sources to reach out to candidates. They often get in touch with candidates through LinkedIn or social media. Social media recruitment often represents a great way to establish connections with job seekers and passive talent.
Advertisements are another way to spread the word about the job opening and obtain job applications. The recruitment metric that analyzes the source of hire is significant because it realistically portrays the outcome of using each of the available mediums.
With this recruitment metric, recruiters get to learn about the expenses and quit working through channels that don't bring qualified candidates.
Time per hire
Keeping track of the time needed to fill an open position is a valuable recruitment metric that provides stability in an organization. It shows the amount of time it would take to find, recruit, and hire a new employee.
The most prosperous companies take necessary actions to reduce their time per hire while preserving the excellent quality of hire.
Quality of hire
Estimating the quality of hire is one of the most useful recruitment metrics for hiring managers. Quality of hire has a long-term influence on the company. It also affects employees' overall quality, productivity, engagement, and satisfaction.
This metric intends to improve a workforce one hire at a time. The obtained results lead to stabler retention rates; more high quality hires means finding a better match for a company.
Cost per hire
The cost per hire metric reveals to the companies how much it costs them to hire new employees, including advertisement costs, recruiter fees, social media accounts, LinkedIn, etc. It covers individual hires and the cumulative number of new employees.
Same as the time to hire, cost per hire provides a recruitment metric and offers a complete insight into the recruitment process's efficiency.
Hiring teams should store all the gathered information in one place and make them easily accessible to everyone included in the hiring process.
Recruitment funnel KPI
Reviewing and estimating the recruitment funnel can also be used as the metric. Recruiters and HR staff can analyze every step of the hiring process. New technology and digital tools in the HR sector are inescapable, which helps to conduct more candidate assessment methods.
These tools help recruiters get a precise insight into the candidates' knowledge, skills, and traits. Recruitment funnel effectiveness KPI enables you to measure this.
Make sure to perform a calculation based on the number of applicants who have made it through each funnel stage over the total number of applicants. This way, you'd see where touch-up is required to improve the recruitment.
The importance of an efficient recruitment funnel
The idea of a recruitment funnel starts with everyone who views a vacancy throughout the whole recruiting process, resulting in a hire. Each step of the process is equally important and has a specific purpose. Every stage of a hiring process influences the final decision and plays a role in forming an image of the company in candidates' minds.
As candidates enter the funnel, their first impression is based on the job description and its distribution. They might learn about the job opportunity from a referral or from a recruiter. Still, the first step requires carefully setting the stage and making sure to attract the right crowd. Recruiters should become brand ambassadors, and be honest, pleasant, transparent, and informative.
Those candidates who are interested in entering the hiring process go through a screening and interviewing process. The most desired results would eventually lead to making a job offer, which is followed by a suitable candidate being hired. Creating an efficient hiring process and hiring the top talent demands a recruitment funnel that is running smoothly and steadily.