What's the main perk you look for when scrolling through new job opportunities? Are you enticed by flexibility? If so, be sure to read this brief guide on how to find and keep a remote job. With just a few of these tested tips & tricks, you'll be able to grab the best opportunity out there and enjoy the advantages of working remotely.
Key benefits of remote jobs
For some people, getting a remote job is like dreams coming true. Those who love to work from home will tell you that there is a number of benefits you will enjoy when working remotely. In fact, they are right. You can organize your time the way you want. No more sitting in traffic driving to the office, hence – more time for yourself and your family. And finally, you can travel the world + visit amazing co-living spaces while getting things done!
Moreover, working remotely is turning into an expectation from employers. Many companies are searching for A-level professionals who can perform all tasks regardless of whether they're fully remote or on-site. However, finding and keeping a remote job can be challenging, especially if you're used to working from an office. That's why we've made this list that will help you overcome these challenges and lend the perfect remote job.
How to find a remote job?
Getting a remote job is not so difficult, but it's different from getting a regular job. Some hiring platforms might be overcrowded. But if you're patient and if you're willing to boost your skills regularly, you'll get your turn to shine. It's possible that you'll get very little (positive) response at first. So, you have to be creative in order to get noticed! Here's the list of sources you should consider when looking for a remote job:
The competition for remote jobs is probably higher than competition for on-site jobs, so you have to market yourself and create an outstanding resume.
[1] Remote Job Boards
The key is to find the right sites that list remote jobs and to identify the right companies to follow on those sites. I guess that you already know the difference between a remote and freelance job, so just use "remote work" filter, in order to find a job that suits you the best. Check out the sites that will bring you closer to your perfect remote job.
There is a ton of junk out there for job seekers – from jobs that are too-good-to-be-true to broken links, repetitive ads, or just straight-out hoax and fake postings. For a small price ($14.99 a month) you can use FlexJobs and avoid these scams. You can use it to find a full-time or part-time gig. It even has some jobs that are perfect for making your way into kickstarting a freelance business. FlexJobs offers job postings from a wide variety of industries, publishes new ads all the time, and posters usually get back to you quickly after you've applied.
Remote.co is actually part of FlexJobs, but it helps companies hire, train, and manage remote employees. They also post jobs daily, and the response time is similar to that of a regular job application. Also, they have great blog resources and Q&A for remote job seekers. You can learn a lot about working remotely here.
Some would say that Upwork is overcrowded, but with good skills, you can find a way to distinguish yourself. You may be underpriced at the beginning, but once your clients get to know you, you will get good reviews and well-paid jobs. Though it is generally not the first choice for those who seek full time employment, it is a great way to see if a freelance, remote, or another flexible type of work is for you. However, Upwork does charge a service fee, but you can earn money quickly.
On this platform, there are many job offers for designers and software engineers, but also for marketers and developers. This online board is great for those who want to find a remote job and it's constantly being updated. You can search for a job by title or skill for free, find a job, and work from anywhere you want. However, if you are looking to hire a remote employee, you will have to pay $200 for 30 days per post.
You can find a number of tech or non-tech job opportunities here. Remote OK will also send you email updates when new jobs in your category are posted. So, if you're searching for employment opportunities outside of the tech industry, this could be the website for you.
[2] Facebook Groups
With 2.23 billion monthly active users, Facebook is the largest social network. It is no surprise recruiters regularly social media with candidate sourcing. And no, we are not talking about Facebook Jobs. We are talking about communities. Here's a list of Facebook groups where you can find some neat remote jobs.
You get the idea. Now, use keywords such as 'remote' and 'nomads' to explore more groups.
[3] Slack Remote Job Communities
Comprehended similarities of status and values make it much more likely that we will unite and form lasting relationships with our fellows. That's why there's quite a number of different remote communities. Since Slack offered free use for online communities, it was a perfect way to gather like-minded digital nomads. Here's a few of them:
[4] Ask for referrals
Leave no stone unturned when looking for a job. Get back in touch with old friends and co-workers. With the right approach, your network can quickly bring in job opportunities. Inform them you are looking for a job, and provide them with your resume and any other needed information.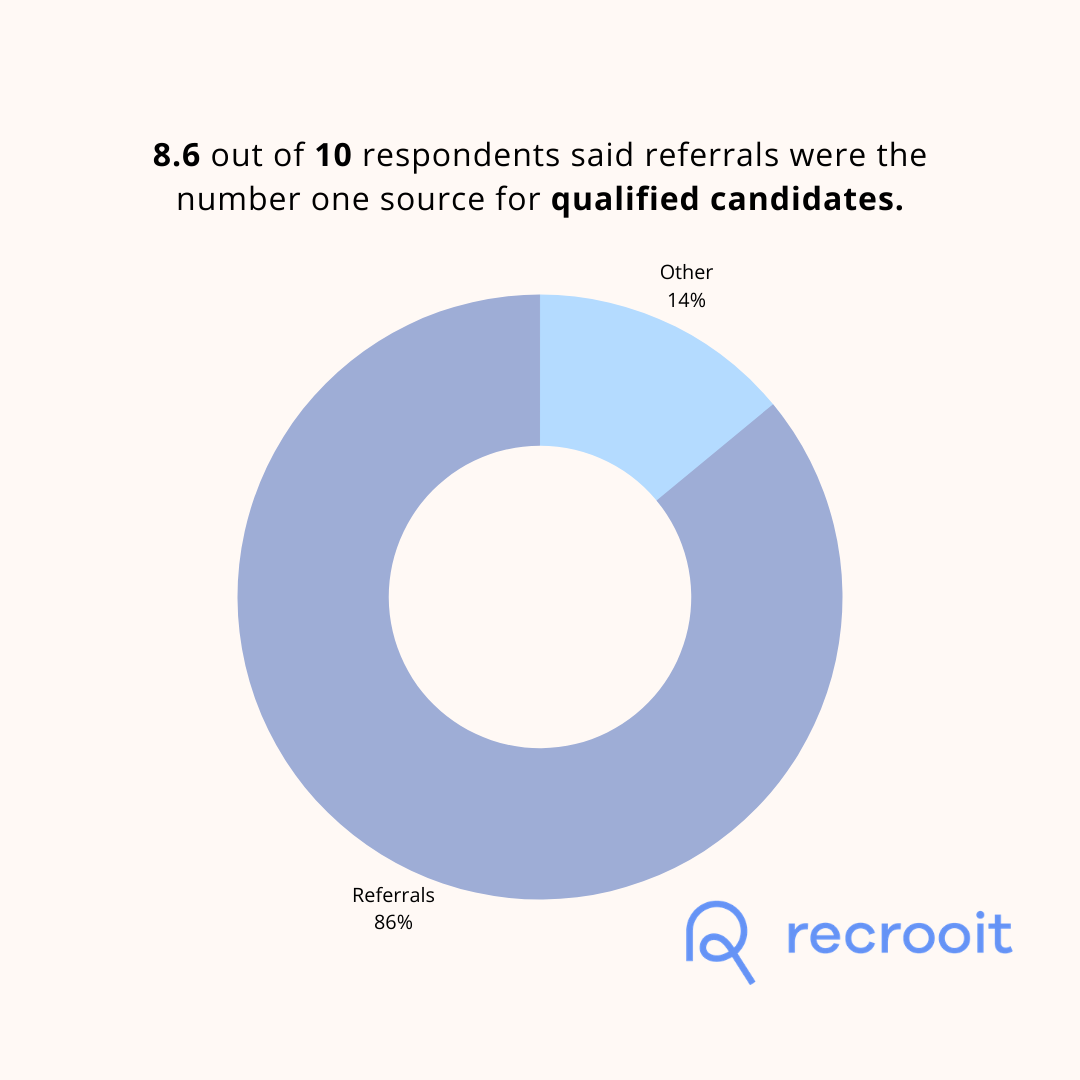 [5] IndieHackers
IndieHackers is one of the online communities that gathers entrepreneurs of successful startups or side gigs. The term 'indie hacker' refers to those generating revenue from different customers instead of employers. But very often, Indie Hackers grow into employers and look for people on Groups on these websites. Check out jobs.
[6] Hashtags
Use several social media platforms, including Instagram, Twitter, or even Pinterest, to look for advertised positions just by searching for different hashtags. Many agencies do not have an advertising budget, and so they post job openings using the #. While browsing through posts, take time to research the companies online. You will be pleasantly surprised how many cool companies are out there!

#remotejobs #hiringremotely
[7] LinkedIn
It feels like LinkedIn has had it's days, right? It's getting hard to filter the jobs, and it takes hours to find a few job posts worth applying for. It's even worse with remote jobs – no filter helps you search through remote jobs exclusively. Instead of wasting hours on Boolean search, queries, and filtering, try publishing a simple post that you are looking for a remote job, industry, area, and a few words on your previous experience. Your network will support your efforts to find a job and boost your reach.
[8] Omnes Job Board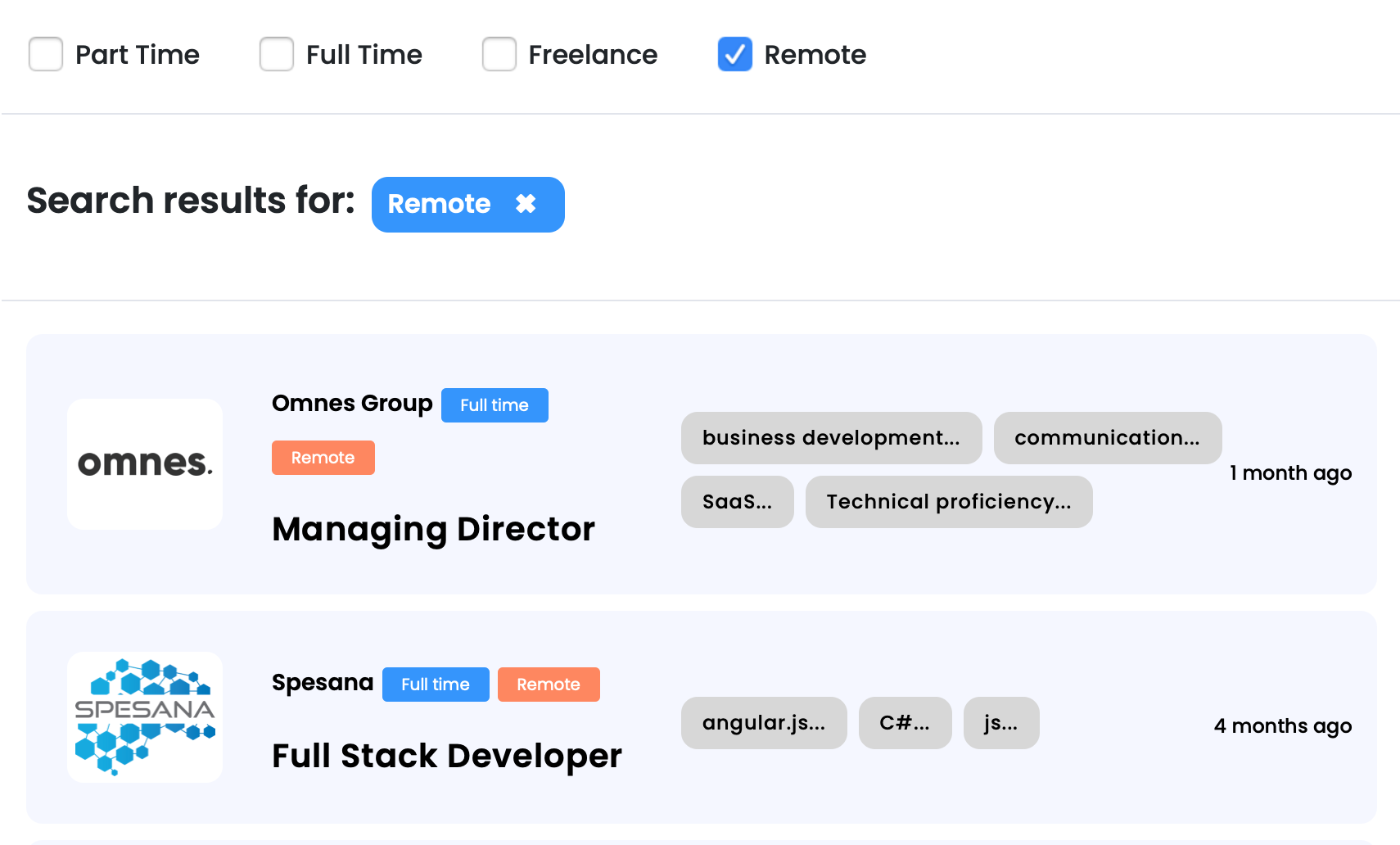 Don't forget to check our job board for remote tech jobs. Simply check remote filter, and browse through active openings. It may happen that we currently don't have remote jobs available, but make sure to subscribe to our monthly newsletter and be the first to know once we do.
[9] Reddit
Fifty-two million unique daily users make Reddit one of the big players. Companies often skip job boards and post free jobs on various subreddits to reach a specific audience. Here are some of the subreddits dedicated to remote jobs:
[10] AngelList
Unlike the other channels on this list, this site is geared specifically toward start-ups and there's no fee to pay. If you enjoy working on early-stage startups, this is a place for you. Just make a profile that stands out from others, and get the list of jobs. After that, just click "yes, I'm interested" on a job offer, leave a note for the hiring manager, and wait for them to respond. The process is really easy – no resume or cover letter needed. Just stay active on this platform and you'll get a job!
[11] Xing
Xing is the German counterpart to Linkedin. It's an online business network that allows you to connect with peers, find new jobs, and share experiences and insights. Must do if you're planning to work in Germany, Switzerland, or Austria.
Learn how to stay productive on your remote job
As you may know, working remotely is a bit challenging, so you have to learn how to stay productive. If you don't do so, you may end up working for a whole day. Anything can distract you – kids, pets, your favorite series on TV or a call from your friend for coffee. Further, you can get lonely or have a lack of motivation for work. That is why remote work is not for everybody. Some people get motivated in an office environment, while others thrive working remotely. Whether you enjoy working remotely or not, you can manage to succeed in it.
1. Determine what really motivates you at work
Do you like your job or just the lifestyle that goes with remote work? Whatever reason do you have, you should keep reminding yourself why are you doing it and why is important for you to stay productive. There is no one around you telling you to do your job, so you have to motivate yourself.
Further, if you want to be the best at what you do, you have to love your job. That will motivate you to wake up earlier, to look forward to Mondays and to focus every day. However, if you have Sunday dread, analyze it. It's normal to have it from time to time, but if you feel anxious about your job regularly, it's time for a change. Remember, having a remote job gives you an amazing opportunity to live the lifestyle that you want while doing the work that you love. If you don't feel this way, think about what causes the problem – is it the remote lifestyle, or is it a job you do?
2. Communicate in order to feel as a part of a team
Communication might seem difficult in a remote team, but it's crucial. Luckily, there is a number of platforms that can keep a team together – Skype, Slack, Pidgin, Trello, BlogIn, or simply email. It's important for everyone to feel like a part of a team, to understand the mission and vision of the company or project, and to stay up-to-date with organizational performance records. Try to find a company that values these things. Further, it's important to become visible to team members in order to stay in a loop. Inform them daily about your tasks, ask them about a project, and you will feel that even though you're physically far away, you're a part of a team.
3. Set up a working area
According to the study, 80% of young professionals admit to working from bed, but this is a bad habit for so many reasons. The bedroom should be a place for relaxation. If you don't set boundaries, you may start to feel like you're always at work. What you have to do is to create a working environment in your home. So, put a desk and a comfortable chair in a bright part of your apartment and decorate a working space with a plant in order to create a positive environment. This is a place where you will be spending eight hours a day, so create a comfortable, but working atmosphere there.
4. Set schedules and to-dos
For keeping any job it's crucial not to make mistakes and to finish tasks on time, so determine your working hours and lunch breaks in order to stay productive. Creating a list of tasks you want to complete by the end of the day will help you focus and skip unnecessary breaks. You don't want to work 12 hours a day, so you better stick to the schedule! No cooking or ironing during the working hours. Prepare food beforehand and schedule a lunch break. Knowing that you have to stop at a certain time will help you focus on finishing a task. However, if you like to make longer breaks and go to a coffee with friends, that's also fine. Just make a schedule and stick to it.
Are you ready to start your first remote job?
Always keep in mind that you have to present yourself at your best. Prepare your resume, make a profile on one of the hiring platforms and organize your time and working space. You can overcome all the challenges and obstacles that go with a remote job, just give yourself time.