To improve a recruitment process is an efficient, productive, and engaging way to contribute to candidates' satisfaction, clients' and customers' contentment, and intensifying hiring teams' results and motivation.
Hiring the most suitable and knowledgeable candidates is the right way to grow a business and enhance its results. Organizations need to boost their recruitment efforts to become more competitive and reach out to top talent. Miss-hiring leads to a loss of time and funds, which impedes the company's advancement.
Making a poor hiring decision might cost a business more than that. Its clients or customers may begin to leave for good and commence collaboration with a competitors' company.
1. Start using an ATS that suits your needs
The usage of an applicant tracking system (ATS) represents one of the crucial assets for recruiters. An ATS allows recruiters to track applicants throughout the entire recruitment process, from the moment a job seeker submits an application until the moment they receive a job offer.
ATS automates communication and prevents recruitment specialists from forgetting to notify a candidate regarding any update concerning their status, feedback, or an upcoming meeting.
More importantly, an ATS helps recruiters learn where most of their qualified applicants are coming from. It enables them to focus on the channels and means that drive the best possible results, be it the company's career page, social media pages, or a job board. The most profitable channels are usually worthy of investing in additional resources.
Before a company chooses a suitable ATS, they should thoroughly examine their hiring needs and current state. Selecting an adequate tool improves the recruitment process.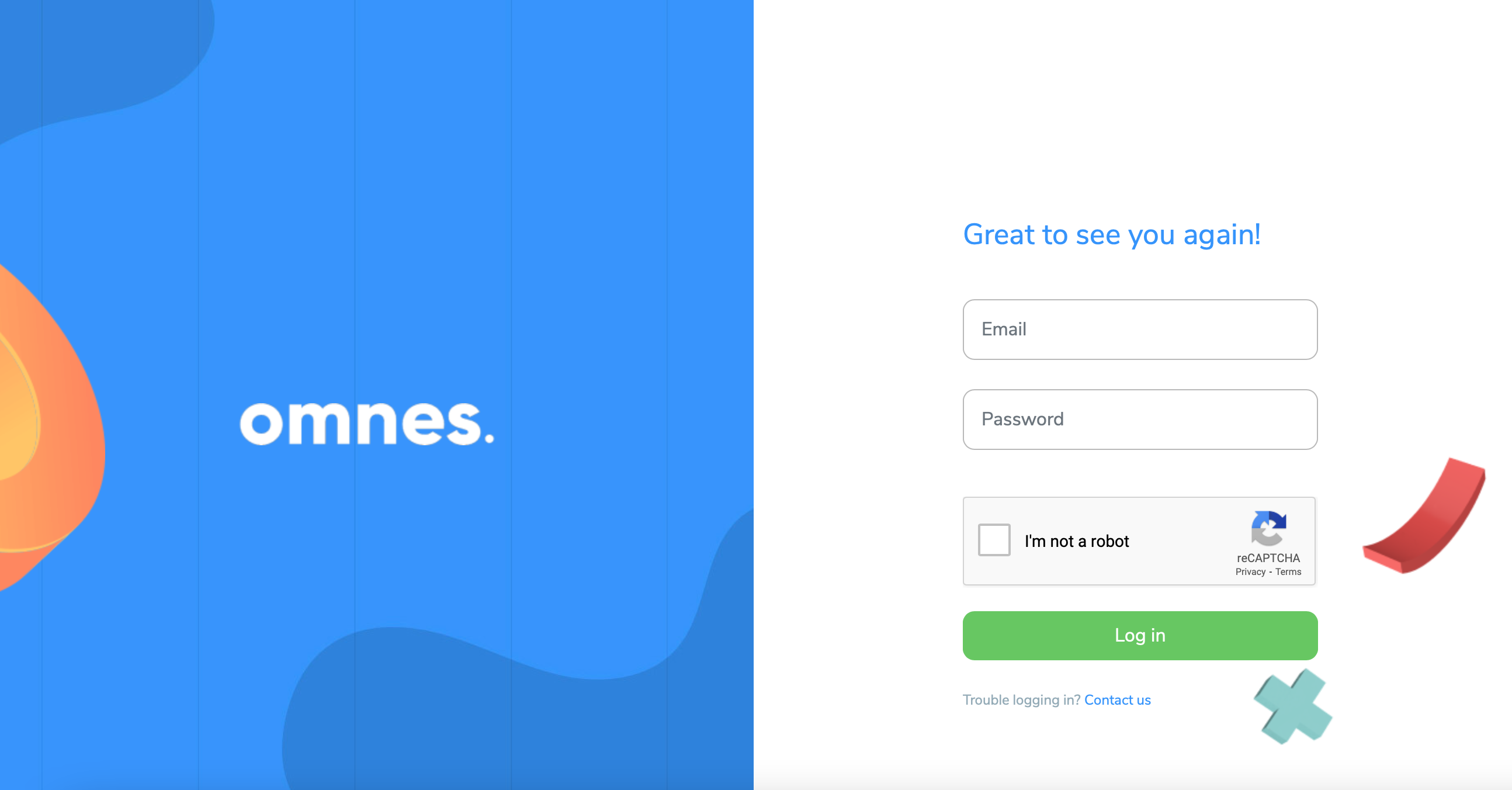 2. Explore the Recruitment Tools
Even though ATS has always been a core technology for HR departments, there are numerous recruitment tools out there to explore. The benefits of using various Recruitment tools are undeniable.
Their correct usage leads to shortening and simplifying the hiring process, saving time and money, and advancing the company's overall public perception.
Recruitment tools can fall into several categories, according to the specific segment they're covering:
Mobile Recruitment tools
Collaborative tools
Online sourcing tools
Interviewing tools
Gamification
3. Write a Precise Job Description
A well-written job description should primarily set requirements, needs, duties, and criteria. An accurate and engaging job description will set the ground for recruiting, hiring, and retaining talent.
It contributes to obtaining maximum work performance by clarifying responsibilities, desired outcomes, and assessing achievements. Every segment of a job description has a unique purpose. A job description must incorporate a job title, job overview, definition, essential job duties and responsibilities, required and preferred qualifications, and a list of benefits.
The first section represents a brief intro between the employer and candidates. Qualified job seekers won't apply for a job if they can't grasp important information immediately.
Keep it simple.
Researches have shown that women are less likely to apply for positions where they don't meet 100% of the company's needs and demands. Men, on the other hand, would apply for jobs for which they meet 60% of the listed requirements.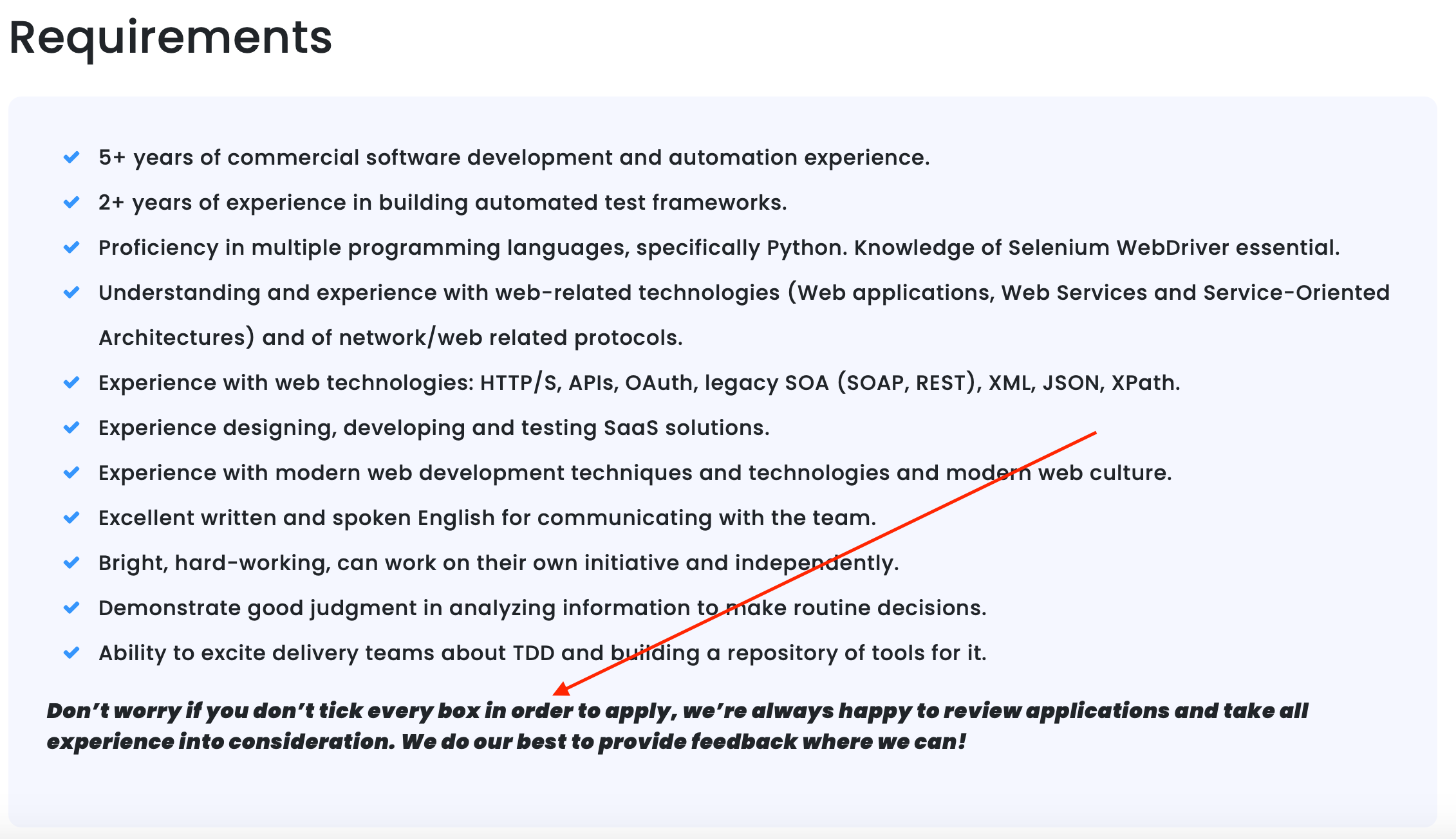 Having these facts in mind, hiring teams must carefully compose a job description and clearly separate the "must-haves" from "nice-to-haves." A JD that seems unrealistic or too ambitious could substantially prolong the candidate search and affect all parts of the hiring process negatively.
Learning how to write a job description correctly and transforming a job post into a remarkable opportunity for qualified job seekers signifies understanding its every segment's precise intentions. A well-made JD undoubtedly enhances the recruitment process.
4. Build a Powerful Employer Brand Strategy
The employer brand represents the organization's reputation and qualifies it as a popular and preferable employer or, if done wrong, marks it as a disadvantageous one. It combines the opinions and perceptions created by job seekers and the general public.
It is nearly impossible to command people's perceptions, but companies can still influence their views. Building an efficient employer brand strategy starts with crafting the employee value proposition. This helps businesses effectively pitch their open roles to the target audience and top candidates.
Updating content and designing new promotional materials help showcase the freshest and upgraded employer brand. A strong employer brand strategy enables companies to show who they are and make a phenomenal first impression when candidates encounter them.
A lively and impactful employer brand can attract tech talent and dazzle candidates already familiar with a company.
Reputation Management
Before applying for a job, candidates will unquestionably check out various credible websites that give them factual information about the open position and the company. That's why companies need to work on their reputation management strategy in employer branding.
Reputation Management means continuously monitoring the reputation of an individual or a brand on the internet. It enables the immediate detection of potentially harmful content and a prompt reaction to it.

The most accurate quote to describe this domain and its phenomenons suggests – You are who Google says you are. And, when it comes to online reputation management, we couldn't agree more.
Online reputation management (ORM) shapes the public perception of a person or a business.
There are various ways to influence the ORM:
Inspecting the business from the within and striving to fix the existing problems internally
Frequent and correct usage of social media to present the company's culture
Setting up Google Alerts to timely track the comments candidates, employees, or former employees wrote.
Responding to those comments and reviews
Paying attention to websites like Glassdoor
Relying on SEO as an ORM tool
Company Culture
The company culture reflects an organization's personality and represents a pivotal viewpoint throughout the recruitment process. Highlighting the company culture and its values attracts candidates with matching goals, interests, and shared aspirations.
Studies show that nearly 46% of job seekers find the company culture essential when deciding to apply for a job.
Maintaining and featuring company culture in social media and job posts tells job seekers that an employer is building both a business and a community.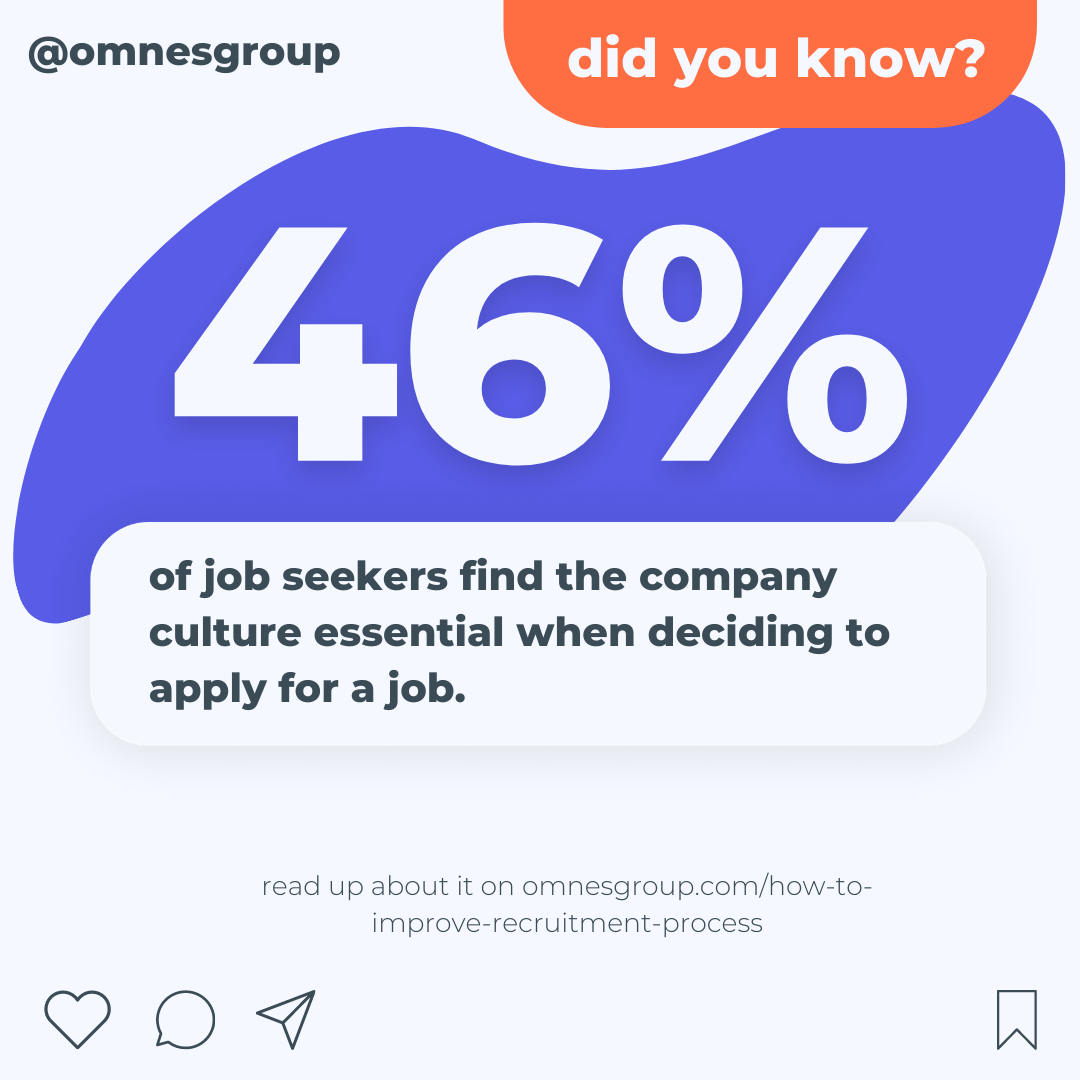 Personalizing the entire approach and online presence encourages candidates to read and discover more about a company and the roles within it they could apply for. Building and promoting company culture influences the recruitment process.
5. Connecting with passive candidates
Today's market is highly competitive, and more than anything – it is candidate-oriented. Recruitment specialists need to connect with candidates and build trust way before they start to promote a new job opportunity and ask for cooperation.
Regularly sourcing candidates for positions before they become vacant significantly reduces time-to-hire and builds a talent pool. This enables recruiters to engage promising candidates ahead of the time, and more importantly, to create stable and trustworthy connections with them.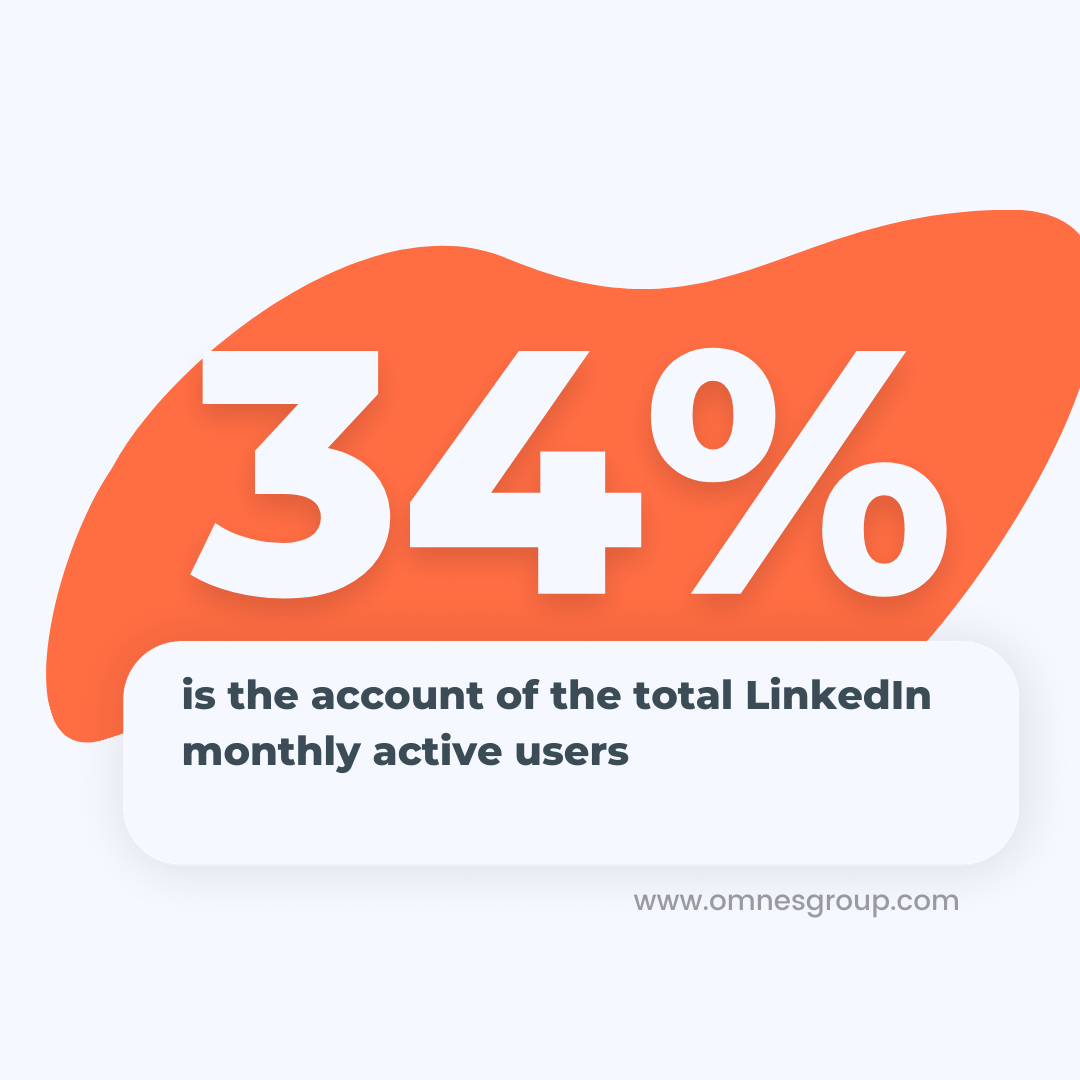 Connecting with passive talent and attempting to gain their interest and trust play a vital role in the improved recruitment process.
Maintaining Clear, Honest, and Continuous Communication
Good, transparent, and timely communication with candidates should always remain a priority, and it represents one of the fundamental steps that make a recruitment process successful.
Keeping in contact with candidates throughout the entire hiring process should be mandatory for every recruiter. Even if there is no news and no concrete feedback yet, it is the right thing to do – to check up on the candidates and see what they have been up to lately.
Tech talent usually have multiple job offers. Excellent, frequent, and straightforward communication directs their focus toward a company and re-engages them.
Collecting Feedback from Candidates
Using the opportunity to gather and analyze candidate feedback improves the recruitment process and overall candidate experience. It equips a company with worthy insight into how candidates perceive its hiring process and shows what needs to be modified and why.
The candidates who have participated in the recruitment process and chose to turn down the job offer are probably the ones who have something to say about the employer brand and can provide useful advice.
Asking employees for feedback and evaluation is also helpful and contributes to long-term success and growth. Their thoughts and notions can influence the recruitment process and improve employee retention, as well.
Conducting stay interviews with current employees has countless advantages and helps employers obtain information.

Creating a Referral Program
Implementing an employee referral program encourages candidate recommendations and makes the employees feel appreciated and engaged. Financial bonuses would be anticipated, but the internal team would likely be attracted to this hiring practice by having a chance to participate in the company's growth and development.
Employers should set the guidelines for when and how prizes would be shared. Employees should receive compensation for reliable references and quality hires.
Finding a Recruitment Agency
Finding a reliable and knowledgeable recruitment company to handle end-to-end hiring processes usually covers all of the steps and methods we mentioned.
Recruitment agencies already have well-trained professionals on board, and they would make sure the whole process runs sleekly and efficiently. External recruiters are familiar with the benefits of using an ATS and usually have experience with several other recruitment tools. They know how social media recruiting works and how valuable it could be, and would become the company's brand ambassadors.
More importantly, a trustworthy recruitment agency has already built a vast talent pool, and their employees know their way around the community. They have insight into the market's needs, requirements, and gaps, which leads to better results and a more efficient recruitment process. Their efforts save time, resources and lead to lower turnover rates.
Do you think it's time to outsource recruitment?