Defining Candidate Experience is a bit tricky since a candidate's perception and the sum of their overall impressions of a company is relatively personal and subjective. Still, we can label Candidate Experience as the general candidate's judgment and opinion about the company's recruitment and hiring processes.
Candidate Experience stands for a job seeker's beliefs and reactions about an organization. Candidates' views and responses are essential for many reasons. They can impact abandonment rates and a company's reputation as an employer.
Considering several touch-points with candidates, many recruiters started to focus on presenting the most desirable candidate experience throughout the entire candidate journey.
Turning candidates into brand ambassadors (even those who did not receive a job offer upon finalizing the hiring process) is tremendously valuable. It affects numerous aspects of the company's success, including future recruitment and employee retention strategies and outcomes. Good communication, timely responses, optimized hiring process, and personalized approach give some companies a head start and enable them to form permanent bonds with candidates, which positively impacts the employer brand. Now, let's see how to obtain brand ambassadors.
Why is Candidate Experience significant?
Granting outstanding Candidate Experience is one of the principal intentions of every recruitment and marketing strategy. These strategies use marketing techniques to attract and hire the most qualified talent.
Commencing the recruitment process on the wrong foot can cloud your potential employee's opinion of your organization. Even when the rest of Candidate Experience is flawless, they usually tend to remember that terrible start. Surpassing candidate experience represents the essence of strong and efficient recruiting and hiring. The Candidate Experience starts with a candidate's first exposure to a potential employer. Employer branding plays a major role in forming a desirable first impression.
And here's another fact to keep in mind while striving to improve your recruitment process.
It is necessary to recognize the difference between Candidate Experience and Candidate Engagement.
While Candidate Experience is related to a candidate's perception of the overall recruiting and hiring process, Candidate Engagement is a never ending process.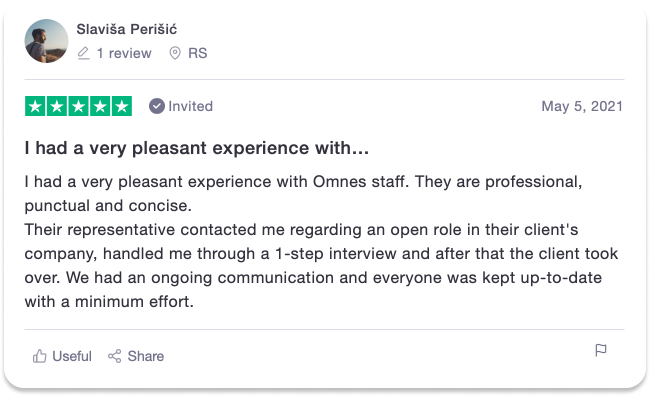 Excellent Candidate Experience enables:
Faster time to hire
Simpler hiring processes
Improved recruitment strategies and results
Better employer reputation and enhanced employer brand
More quality hires
Better employee experience and retention
Financial benefits
The correlation between Candidate Experience and Employer Branding
There's a sort of a chicken and the egg situation in defining the bond between Candidate experience and EB. Candidate Experience unquestionably affects the Employer Brand. And vice versa.
According to a LinkedIn questionnaire, more than 80% of candidates stated that a negative interview experience could easily change their minds about accepting an offer from a company they used to like. And, having the massive influence of social media and websites that enable candidates to post comments about potential employers in mind, we can see the undeniable correlation between Candidate Experience and employer's status and reputation.
The same LinkedIn survey discovered that approximately 10% of dissatisfied candidates tend to encourage others to turn their backs on a company as well. On a more positive note, nearly 90% of passive candidates are willing to reconsider their decision and give a company a chance based on their initial experience related to the hiring process.
Talent attracts talent. Unique Employer Brand appeals to candidates and grants top-notch Candidate Experience.
Exceptional Candidate Experience strengthens the Employer Brand.
How to improve Candidate Experience
Improving Candidate Experience starts by paying attention to these crucial factors and steps a hiring process consists of:
Accurate identification of the true hiring needs
Job descriptions and job posting
Social media recruitment strategies
Company culture and employer brand
The application process and ATS's efficiency
Communication with recruiters and Hiring Managers
Well-organised interviews and assessments
Providing feedback timely and giving the necessary information
Being transparent, clear, and precise
Personalised job offers that match candidates' expectations
Carefully structured and properly conducted pre-boarding and onboarding processes
Turning Candidates into Brand Ambassadors
Employers know that recruiters can represent great brand ambassadors. Candidates can do the same for your business. Turning candidates into brand ambassadors guarantees long-term success. If candidates contribute to building and refining your employer brand, you would notice various benefits.
How your organization benefits from turning candidates into brand ambassadors:
Candidates will advocate for your company
Positive public perception
Word of mouth is still the most valuable recruitment tool
Enhances social media presence and send a strong message to a target audience
Improves both candidate engagement and employee experience and engagement
Satisfied candidates and employees produce more content among clients, users, or customers
Candidates will recommend your company to their former colleagues, friends, and other talents. You will meet more skilled and qualified potential employees, and your talent pool will substantially increase. You would avoid bad reviews and negative Glassdoor criticism. Reapplying and referring other suitable candidates are among the most important positive aspects of making former candidates your brand ambassadors. They will boost your brand, and imminently lead to increased profitability.
Build a bond with rejected candidates
Receiving a rejection letter must leave a slightly sour taste in candidates' mouths. Still, this negative impression shouldn't mark their entire journey and overall experience. Recruiters can make sure to prevent candidates from feeling resentful and disappointed.
Building a relationship with candidates who didn't end up with a job offer should be a mandatory part of the recruitment process. Staying connected opens the door for a new job opportunity and future collaborations.
Communicate with rejected candidates
Rejecting candidates is never simple, and it must be done thoughtfully and considerately.

Even though no recruiter enjoys delivering the bad news, they must notify a candidate promptly. Getting in touch with candidates who didn't make it into the next round of your hiring process is obligatory, and it should happen as soon as possible. This way, recruiters will show appreciation toward candidates and will respect their time. The idea practice suggests contacting candidates within 48 hours after the interview.
Although our generation prefers texting and kind of dreads phone calls, some surveys have shown that rejection notes feel better from candidates' perspectives when delivered by phone.
Suppose a phone call is not an option due to a large number of applicants. In that case, recruiters must still pay close attention to composing adequate emails that feel personal, valuable, and reassuring.
Providing feedback and asking for feedback
Most candidates will sincerely value your feedback. One LinkedIn research shows more than 90% of candidates hope to receive feedback right after an interview.
Moreover, rejected candidates are four times more likely to take your company into account for future opportunities when your recruiters offer them useful feedback.
The fundamental rule here is to be sure your feedback is accurate and truthful. It must sound polite, and recruiters need to let the candidates down slowly. However, there's a thin line between politeness and sugarcoating. Don't cross it. Keep the balance with a combination of honest praise and criticism. Be direct and strive to personalize the feedback. If you chose to hire another candidate, it would help if you named the exact reasons you made that choice.
Give rejected candidates actionable advice to help them and encourage their future career goals.
Besides offering feedback to rejected candidates, recruiters should also ask them for input regarding the hiring process and the insights they have gathered. This will show that a company cares about their opinion and provides an excellent candidate experience.
Sadly, most employers don't ask candidates for feedback on their candidate experience. Still, there are various ways to correct this practice and hear about the areas that need fixing and processes that run smoothly. Candidates can provide their opinion and rate the potential employer by answering a set of quick questions, or a dedicated recruiter can simply text or call the candidate and ask about their opinion.
Practise what you preach
Read these tips and facts carefully and set the stage for an enhanced candidate experience. Employer brand is impossible to build and maintain without the positive notions from current and potential employees. Follow these guidelines and never neglect the significance of small recruitment efforts and good practices.