Recruitment and hiring have a few key points in common with sales processes. Much like buyers, candidates also go through several stages when looking into new job opportunities. And although most steps they'll take have a whole lot to do with the online world, the candidate journey also happens offline.
But what does this term stand for? How will you map it? Which touchpoints should you have in mind? This simple guide will offer you a clear overview of each stage your potential hires should experience.
Candidate journey definition & key points
So, what is a candidate journey? In simple words, this term is used to describe the stages talents who are entering your pool will go through. There are six stages to undergo:
Awareness,
Consideration,
Interest,
Application,
Selection,
Hire,
While passing from one stage to the next one, candidates will interact with your company's brand. So, it's paramount to understand (and boost) the unbreakable bond between recruitment and employer branding. To nail the first three stages, a recruiter should know a thing or two about marketing. And as for the three final phases, it's when true recruiting knowledge has to be emphasized.
Now, aside from these steps that each job seeker encounters, there's another element to keep in mind. This essential ingredient is called candidate journey touchpoints, and it stands for all online and offline interactions your aspirants will have with the company.
Active vs. passive candidate journey
It is crucial to mention that while the initial stages of the candidate journey concentrate on active job seekers, the last three phases focus on passive talents.
Studies show that only 12% of people actively look for new career opportunities. And if you're aiming to fill one of the in-demand tech positions, the odds of receiving numerous qualified resumes are probably even slimmer. That is why recruiters must pay more attention to passive job seekers. That includes shifting the focus on brand awareness, consideration, and candidates' interest in the company and the role it's promoting.
Candidate journey vs. candidate experience
One thing is certain – in recruitment, there are lots of terms that seem like they're interchangeable. Still, when put into practice, most show a few massive differences. Candidate journey vs. candidate experience is one of those common terminological dilemmas and quasi-synonyms. So, let's see how to distinguish between these two.
The first one represents a path. It's a series of steps and actions candidates take. It outlines the process that starts with a job hunt and (hopefully) ends by being hired. So, decision-making and the job offer should be the final stages here.
On the other hand, candidate experience is a blend of perceptions about the company and its hiring process. Candidates collect thoughts, impressions, and ideas about the firm and its procedures, and the people involved from the initial point of contact. And, surely – it's inseparable from the candidate journey. So, even though they represent different things, the two form one complete image. Or, to put it even more simply, candidates collect experiences while their journeys last.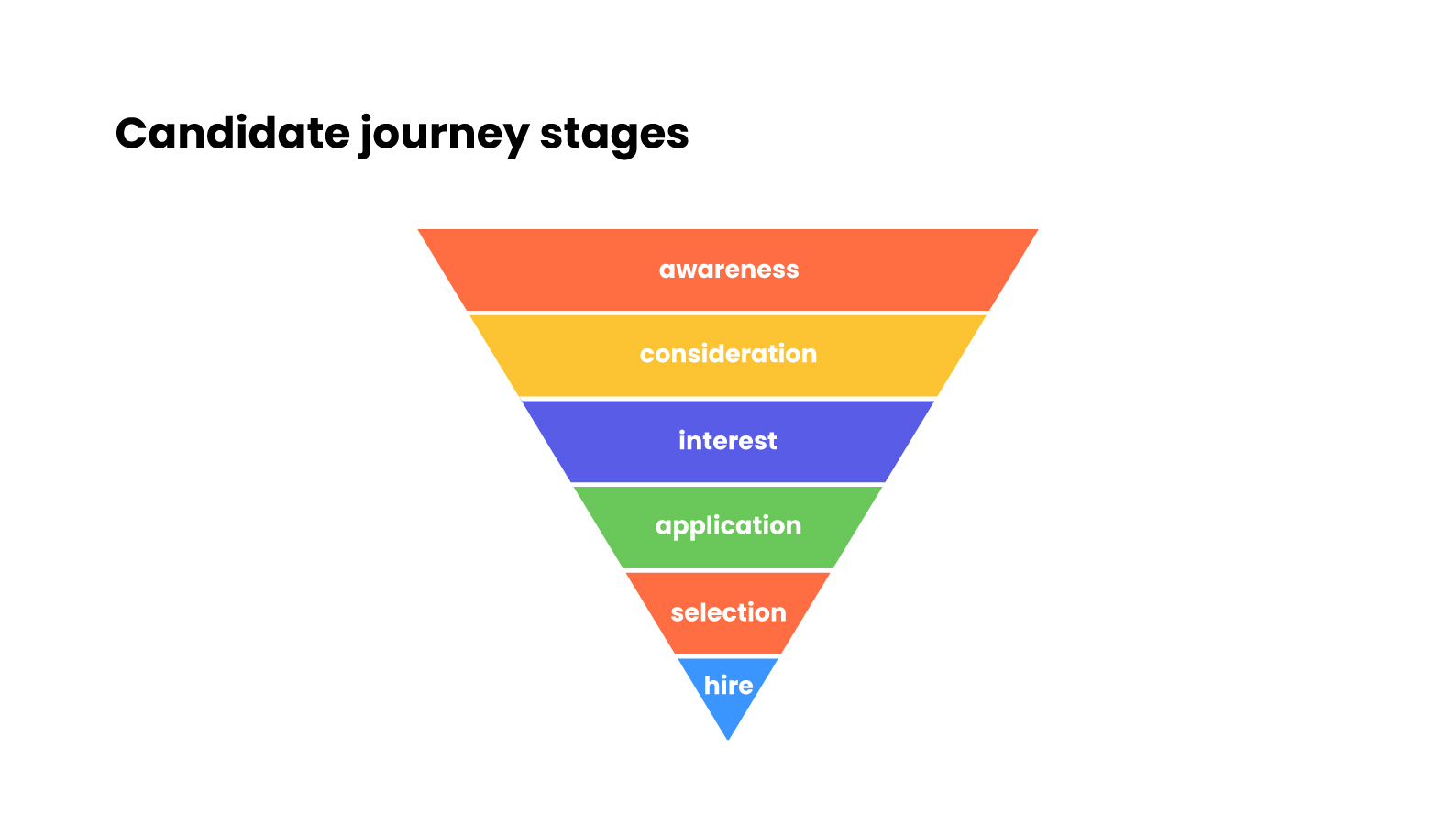 What is candidate journey mapping?
Candidate journey mapping stands for creating a visual representation (in other words – a map) of candidates' journeys throughout the hiring process. It outlines those main six phases and all points of contact with the brand. Its prime benefit is improved candidate experience. By following each potential hire's path, actions, and notions (and gathering the valuable information), you can start fixing some problems, adapting to your candidate persona's needs, and turning candidates into brand ambassadors.
Improved CX and boosted awareness mean more qualified applicants in the future, improved recruitment strategies, shorter time to hire, lower costs, and more.
5 tips for creating a candidate journey map
If you're still wondering – How do I map a candidate journey? – then, this brief guide is just what you need! Start by knowing who you want on your team. Once you build up a profile of your ideal hire, ensure to understand their needs and preferences and build a framework that will help you reach them. Focus on each of the touchpoints and make a list of channels that can help your candidates have a smooth experience. Here's what each step you should take actually entails (+ a few pro tips on how to get the best results).
Define your ideal job candidate
You've most likely heard of the candidate persona. In other words, a (kind of fictional) profile of an ideal applicant. They possess all the right skills and qualities to get the job done effortlessly, drive amazing results, and fit into the team like a pro. Sounds quixotic – but they're real! At least partially. By outlining this perfect profile, you will gain the idea of whose journey you're about to map. Wondering why this is essential? Well, different candidates will have different journeys, expectations, and experiences. Focus on who you need on board and align the plans and maps with their background, expertise, and preferences.
Set up a framework
Remember those different stages candidates go through? Well, they're the keystone of your journey mapping. Since these steps and elements are kind of inevitable, you should strive to watch them both separately and as a whole. Set up a framework that matches your company's aims, hiring needs, and resources. And by resources, we mean money, time, and recruitment personnel + the tools they use. And more! Count in all of the key factors and see how each stage can be improved.
Know your candidates' needs
Each phase a candidate goes through triggers a new set of questions. As you can guess, the initial one will have them wondering about the company itself. So, it's critical to provide the necessary information ASAP. So, promote your firm in multiple ways and through all the channels you can put to use. And never underestimate the power of a well-written job description. It should always start with a brief yet engaging intro.
Then, questions like whether your company is the right place to work, play, and grow kick in. Also, both passive and active job seekers can think about the perks, values, and benefits that attract top talent to your organization. They'll strive to find out what makes you unique and different from the competition. Do your best to stand out. And stick with the points that truly matter to potential hires.
After that, the time comes to give and receive feedback. Did you receive and screen the resume? Did you like it? Did they like you back? It's paramount that you keep the communication flowing. And to check out how the candidates perceive your firm. And finally, if it all goes perfectly smooth & just as planned – you get to the job offer phase.
Discover the candidate journey touchpoints
Engaging candidates with the company, its employees, and employer brand is crucial. And candidates usually choose to interact according to their own needs and interests. Now, all of these interactions fall under the category of candidate journey touchpoints. Your goal is to discover when, where, and how to touch base at each stage.
The easiest way to do so is by putting yourself into a potential hire's perspective. So put your thinking cap on and focus on these key points:
How can someone learn about your company, its open positions, culture, benefits, etc.? Where would they get informed in the first place?
What is your EVP, and how will candidates get familiar with it?
How will applicants compare your company to the competitors?
What is the application process like?
How long is the hiring process, and which steps will potential hires go through?
What happens after you welcome a new member to the team?
Those are the elements candidates will think about throughout their journeys. So, you should cover all of them. And, if possible, ask your current and previous candidates about these essentials. Organize a brief chit chat or send them a concise survey.
List your channels and sources
There are countless channels candidates can use for each of the touchpoints. And your job here is to find out which does the trick for you. And to learn if someone's been badmouthing your firm. So, you'll be dedicating a few moments to reputation management.
So, candidates express their experiences and thoughts in different ways and through various platforms. If the whole recruitment process was described as poor or biased, you could expect a negative review on a website like Glassdoor. But each company uses different resources and channels to promote their vacancies. So you should map the sources you've used and those that drove applicants to reach out. Detect the channels that mattered for each touchpoint. The first few points of contact could happen through social media or career pages, while the final phases usually imply email, phone calls, etc.
Final step: Get ready to use this map
Creating a candidate journey map entails graphic visualization. But that's not all! Once you depict the path your potential (and future) hires take, you must use the info. So, the time to act is now! And here's the drill: analyze + improve!
So, first of all, these maps are super-efficient tools that could enhance your recruitment results. Use them to find out how good or bad your company is at each specific phase and touchpoint. Here's your roadmap:
Start by Googling your company,
Ask for feedback & tips from your recently hired employees,
Create and send out CX surveys (+ make them short and precise),
Read and analyze company reviews and social media comments,
Track the basic marketing and recruiting metrics.
Now, the ultimate step: put your insights into practice! First, prioritize. Take care of the issues that have the most massive impact on your processes, reputation, and outcomes. Then, establish a precise time frame and resources you'll use to measure and improve your journeys and experiences. And just get ready for upgrading.
Use this step-by-step guide to map & improve your candidate journey
Learning how to make and use a candidate journey map will have a massive impact on your business. Because – it all starts with hiring. Smooth processes and steady growth are the key. And once you start following these steps and analyzing each one's strong & weak points, you'll be on the right track.
If you need some extra guidance – talk to us! A recognized recruitment agency is the best ally when it comes to positive experiences and lasting bonds with top talents.