Whenever you're looking for tech specialists, there are new grounds to cover and options to traverse. Regardless of whether you'd like to build an in-house team or go for freelancers or outsourcing companies, it's vital to set clear goals and understand the market. Hiring developers from Ukraine starts to seem appealing to many businesses.
How come? Sourcing talents from this part of Eastern Europe has many upper hands. From the skill sets and background to culture and ethics – there's much to look forward to when working with Ukrainian developers. Make sure to align your priorities, do your homework, and start looking for professionals in the right places – and with the right kind of help.
How Many Programmers Are in Ukraine?
Stack Overflow has reported that there were 166,000 Ukrainian developers in 2017. That was perceived as a massive increase compared to the years before. However, the freshest data suggests new growth. Nowadays, there are over 200,000 tech specialists located in this country. Nearly one-half of them live, work, and play in the state capital, Kyiv. As for their experience, the largest percentage of Ukrainian devs are intermediate level. Senior engineers make up approximately 20% of the workforce here.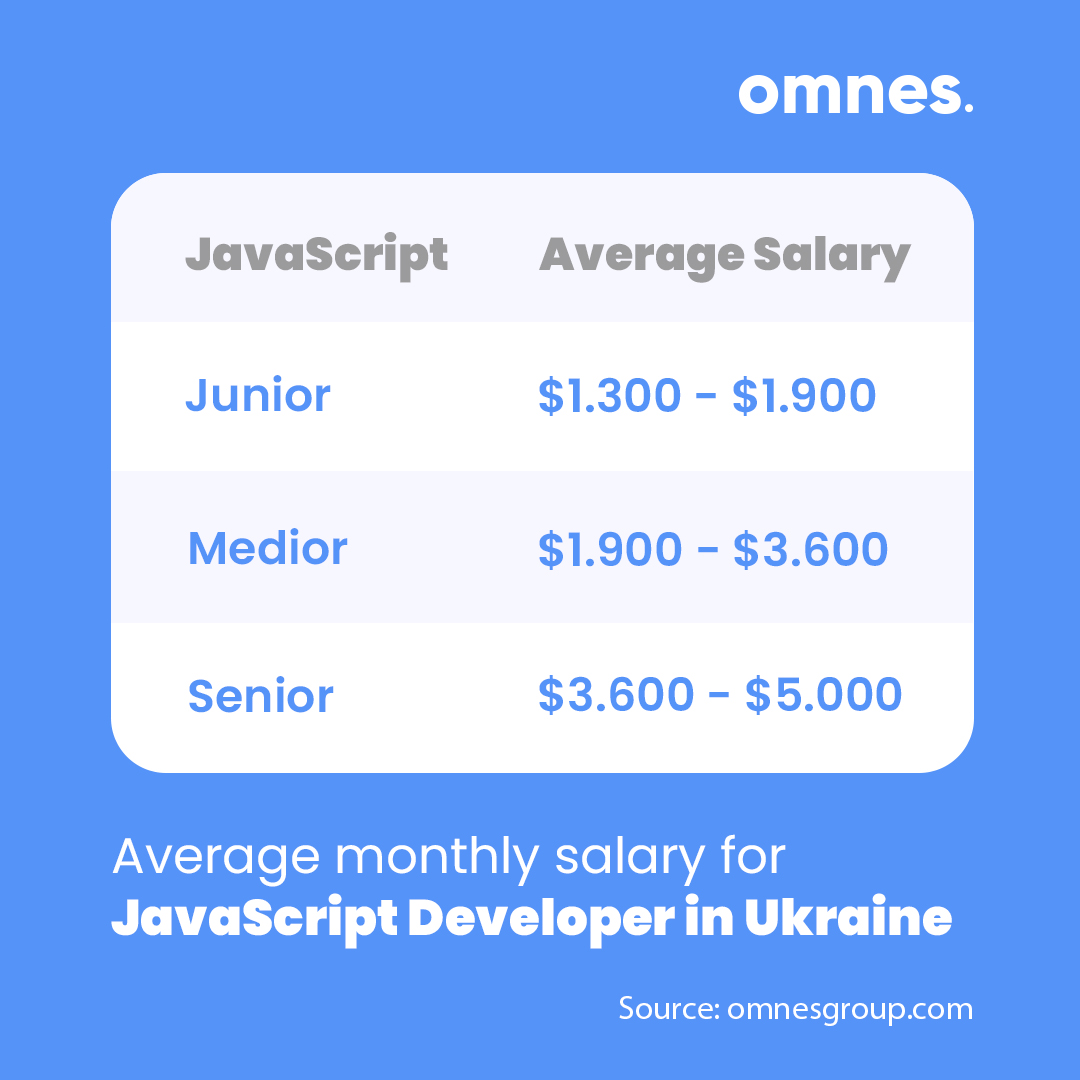 In addition, you can find more than 4,000 successful tech companies and startups in the area. Most of them were used to working from their offices before remote work became the norm. In the meantime, more than 60% of them regularly attended conferences and meetups related to their expertise, skills, and tech stack.
Why You Should Hire Software Developers from Ukraine
The entire European soil seems to be quite suitable for countless tech companies across the globe. Some prefer finding a reliable BPO partner and outsourcing development. Others will rather hire in-house software engineers who will be working remotely along their side. Southern Europe has much to offer. Businesses worldwide already know how competent tech professionals in the Balkans are. However, Eastern Europe also has many perks. So, is Ukraine good for software development? The short answer is yes! And here's why:
Vast knowledge of modern technologies and excellent work dynamic,
Extensive experience in working with the US and UK tech companies,
Multilingual environment and excellent English skills,
Superb work ethic and loyalty to clients,
Flexibility and willingness to adjust to different time zones.
Lastly, hiring developers from Ukraine is cost-effective. When you break down all the expenses related to hiring, onboarding, training, renting an office, and paying taxes, this country offers good rates and affordability.
Where Can I Hire a Ukrainian Developer?
Where you'll find tech specialists that match your needs depends on your precise goals. When exploring this promising part of Europe, you have various sources to consider. If you wonder – How do I hire a top developer in Ukraine? make sure to answer these basic questions first:
Do you have long-term goals to fulfill, and how long will the project last?
How many people do you need onboard?
How much time and resources do you have at your disposal?
If you have a case of an emergency, it's often the smartest choice to look for a freelance developer. Also, if you need help to resolve a top-priority issue ASAP, but you're not sure that the collaboration will continue afterward, freelancers or flexible talent are what you need.
If you don't have enough time to build a remote team from scratch, train them, and introduce them to the product you're planning to build, you should look for a BPO company with good references and a suitable tech stack.
Lastly, when planning to form your own squad in Ukraine, you can start hiring with the help of your internal recruiters or by finding a specialized tech recruitment agency.
Ukraine Developers: Freelancers
Around 20% of full-time employed developers here work on part-time and freelance projects. However, a large percentage of those who still haven't landed a side gig are quite interested in these flexible opportunities. If finding a freelance developer in Ukraine is your objective, try your luck on Upwork, Freelancer, and Toptal.
Hiring freelancers is the best choice for those who need some help with short-term projects. It's also the fastest way to fulfill an urgent need and accomplish some high-priority tasks.
Top Software Development Companies in Ukraine
When searching for top software development companies in a specific area, there are various factors to look into. When it comes to this particular region, it's not hard to find experienced and highly skilled talent.
First of all, when hiring developers in Ukraine, you'll see how excellently developed their communities are. When seeking a suitable vendor, be sure to have a look at these tech companies:
Intellias, a reputable tech organization that's been on the market since 2002 and has more than 1500 specialists on board,
Eleks, a firm with nearly 30 years of industry experience and around 2000 skilled tech professionals within its teams,
InVerita, a company focused on web and mobile development, founded in 2015, and with more than 100 proficient tech experts working on custom solutions,
Yalantis, an organization focused primarily on iOS and Android, but also with strong knowledge of IoT,
Ciklum, a firm with offices in several Eastern European countries, dedicated mainly to DevOps, data analytics, and cybersecurity,
SoftServe, a tech company with over 6000 professionals, that offers more than engineering services, and has built a corporate learning hub.
When looking for a company to outsource development to, you should keep your priorities and business goals in mind. Explore the market and see who matches your criteria and expectations.
Software Developer, Ukraine: Salary
The precise salary range of Ukrainian developers mainly depends on the tech stack they use and their experience. Fors instance, JavaScript developers are highly demanded in this country. Their salaries vary from one professional to another, but the average amount an intermediate JS developer will receive is between $1900 and $3600 per month.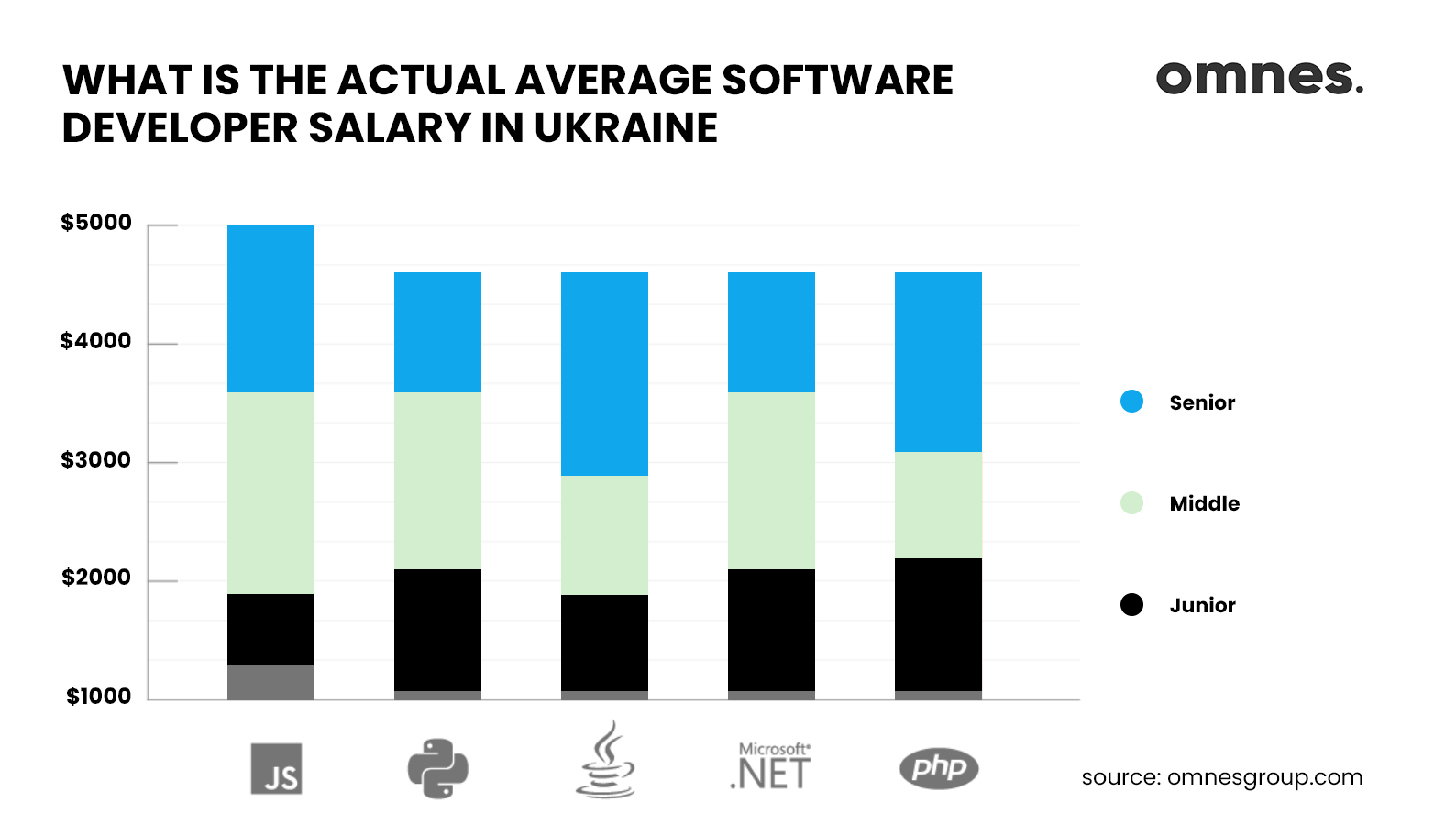 Hiring Python developers will entail a quite similar salary range, while an intermediate .NET developer earns approximately $2100 to $3600 a month. PHP developers with the same amount of experience usually expect $2200 to $3100 on a monthly basis.
Senior JavaScript engineers earn from $3600 to $5000 a month, while Senior Java developers make from $2900 to $4600.
Should You Use a Recruitment Agency?
When exploring the European talent market, you might need some insights from local experts. Hiring a recruitment agency could come in handy regardless of whether you want to hire a customer support team or experienced software engineers. But how do you know whether you should rely on external recruiters to handle your processes? Here are a few key points to keep in mind:
Know your true hiring needs and be sure how frequently you will be hiring new people,
Recognize whether the job opening in your firm is labeled as a hard-to-fill position,
Seek guidance to access the right sourcing channels,
Explore your options and compare third-party recruitment teams before selecting one,
Base your decisions on the valuable information you have gathered and focus on recruiters' industry knowledge, transparency, and previous experience,
Ask relevant questions to discover more about your chosen region, its trends, salary ranges, and services you are likely to encounter.
Additionally, if you need a hand to scale your growth, your best option is to outsource recruitment and handle this aspect with ease. Also, by using recruiting services, you will see awesome results when it comes to your brand reputation and awareness. That is – when you choose the right team to collaborate with.
External Recruiters Will Cover Tech and Non-tech Requirements
There are countless benefits of improving recruitment processes by finding a reputable external crew specialized in your particular niche. But the whole deal with perks starts by covering the basics. When experienced recruiter sources and screens your candidates, they provide crucial info about them. You will be completely sure whether someone is a good match for you based on an objective soft skills assessment. But also – the best recruitment agencies offer technical screening services.
That way, you can save a lot of time and money and align all your KPIs promptly. So, if you're hiring developers from Ukraine, finding a European tech recruiting firm could bring you the desired results quickly and affordably.
Hiring Developers from Ukraine Might Be a Great Choice!
If you plan to hire Ukrainian developers, make sure to know your precise aims and explore all options. From hiring remote developers to finding suitable freelancers, there are multiple options worth looking into. Don't forget to give a once-over to the whole market and determine whether you'll build a team from scratch or collaborate with third-party teams or individuals.
While you're at it, think about your true necessities and consider finding a respectable and trustworthy tech recruitment agency that will help you out with finding top talent.